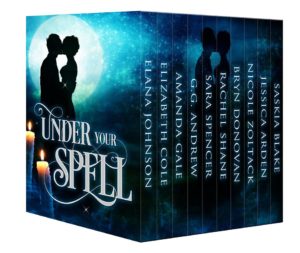 I'm thrilled to share that a spooky romance collection I'm in, UNDER YOUR SPELL: A ROMANCE BOXED SET OF MASKED BALLS, HAUNTED GARDENS, MAGIC, AND MORE is now available for preorder on Amazon!
I'm excited to be part of this set of ten novellas, all featuring romances that are a bit creepy. Some are set in haunted houses, some have shifters, some have the ghost of a husband presumed to have died at sea…
My own novella, To Hell with Love, is a romantic comedy, but set in a creepy underworld populated by Greek figures. It's sort of Percy Jackson meets Buffy meets Jane the Virgin, with a portal to hell in a bookstore thrown in for kicks.
Daisy has the perfect night with the perfect guy–only to wake and find he's sold his soul to the Devil and has no memory of her. Now she's got to navigate the underworld, unbalanced goddesses and unpleasant demons–not to mention a cute med student posing as Charon–to meet the Devil and reverse the curse…and discover that what she really wants may be something else entirely.
Keep reading to learn more about this boxed set. You can also read an excerpt of To Hell with Love here.
Under Your Spell releases Sept. 1st, but it's available to purchase now for a special price of just $0.99. Grab it before it grabs you!
UNDER YOUR SPELL: A ROMANCE BOXED SET OF MASKED BALLS, HAUNTED GARDENS, MAGIC, AND MORE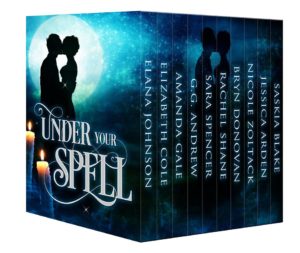 Fall under the spell of ten up-and-coming romance authors. When the clock strikes midnight on Halloween, you'll want to read every one of these all-new, original novellas. From enchanted gardens to mystic curses, you'll find something to make your spine shiver and your heart beat faster. Fall in love with a cursed werewolf, a heartbroken ghost, a true southern gentleman, and many more. There's something for everyone, with contemporary romance, historical romance, paranormal and shifter romance.
Everyday is Halloween with this spellbinding collection!