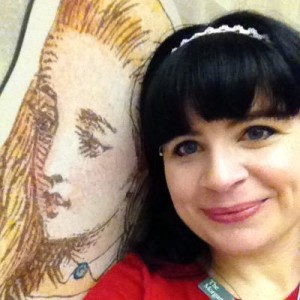 The Writers Who Read series continues this week with bestselling author Tiffany Reisz.
Who are you?
I'm Tiffany Reisz! I write the bestselling ORIGINAL SINNERS series from Mira Books, which has won an RT Editor's Choice award, a Lambda Literary award, and the RITA Romance Writers of America award. The series features a quirky and beautiful Dominatrix, her various lovers (including a Catholic priest), and her wealthy and powerful clients.
Which book or series was your gateway into the world of reading?
I've always been a reader. I can't remember a time before books. My mom read to my sister and I at night every night. The first book I remember reading on my own and loving so much I wanted to read more more more was THE LION, THE WITCH, AND THE WARDROBE in the fourth grade. It blew the top of my head off. After that it was A WRINKLE IN TIME by Madeleine L'Engle.
Nowadays, what makes you crack open a book instead of pressing play on your favorite Netflix show?
I'm one of those jerks who doesn't watch Netflix or TV. Sometimes I'll watch a Poirot episode on DVD, but I'm literally that obnoxious hipster who watches no TV unless someone makes me (although my husband and I do watch Portlandia, but I confess I wouldn't watch that if he didn't put it on, because I don't know how to work any of the remote controls).
But back to your question…I'm reading a lot of holiday romances right now. I have a nice pile of Christmas romances stacking up that I plan to binge read in November and December.
Which authors are auto-buys for you? Why?
No author is an auto-buy for me. Even if I love everything I've read before by that author, I'll still read the back cover to see if it appeals to me. I loved THE KEEP by Jennifer Egan and it's easily in my Top Five Fave Novels EVER, but I haven't read her two most recent books because they don't call to me. I own a ton of books by Mary Balogh and Georgette Heyer. I love Agatha Christie mysteries. If I see one in a used bookstore, I'll almost always buy it.
What is your book kryptonite–those unique settings, tropes, or character types that make you unable to resist reading?
I love love love marriage of convenience romances and May/December romances. Give me a marriage of convenience romance between a 17 year-old bride and a 35 year-old groom and I am a happy girl. That's actually the couple in Georgette Heyer's A CONVENIENT MARRIAGE (she's 17, he's 35, they are near strangers when they marry and he wins his wacky bride's heart with kindness and patience and a great sense of humor) ergo that's my favorite romance novel ever.
What is your ideal time and place to read?
I love reading in bed at night with my sad little kitteh-cat Honeytoast curled up on my stomach or chest. I'm definitely a bedtime reader. I get in bed a little after nine and read until midnight.
Are you a re-reader? Why or why not?
I'm absolutely a re-reader. I've read Anne Rice's "Sleeping Beauty" series a few dozen times (so sexy). I've read Elizabeth Wein's Arthurian retelling THE WINTER PRINCE at least a dozen times. If I picked up A CHRISTMAS PROMISE by Mary Balogh right now I'd be reading it all day. I know I've read ALL THE KING'S MEN by Robert Penn Warren at least three times and it gets better every time I read it.
Which books have had the biggest influence on your own writing?
Probably the Bible, Anne Rice's vampire and kink books, Jacqueline Carey's first couple of Kushiel books, Julie Garwood (I love a writer who can make me laugh) and C.S. Lewis's Narnia books. If I could write one novel half as good as THE VINTNER'S LUCK by Elizabeth Knox, I could die happy.
What makes a book a satisfying read for you?
Great story, great writing, believable rich lush characters, and a good punch in the gut. Probably the best two gut punch books I've ever read are THE VINTNER'S LUCK by Elizabeth Knox and AN INSTANCE OF THE FINGERPOST by Iain Pears.
What are you reading right now?
Started ONLY A KISS by Mary Balogh last night and read over half of it before finally falling asleep. Just finished THE GOOD SOLDIER by Ford Madox Ford and it was Good Madox Good!
~
Tiffany Reisz is the author of the internationally bestselling and multi award-winning The Original Sinners series from Harlequin/Mira. She lives in Oregon with her husband, author Andrew Shaffer. Find her on Twitter @tiffanyreisz.