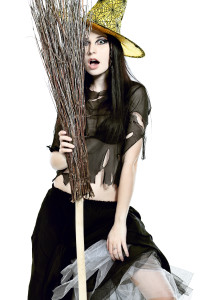 My short story "Crazy, Sexy, Ghoulish" has been accepted into
Wyrd Romance's I Heart Geeks anthology
, which will be coming in early 2015.
I'm thrilled to be part of this collection of short stories on nerd love, and had such a blast writing my own story. "Crazy, Sexy, Ghoulish" is set in a haunted house around Halloween, and has romance, zombie jokes, plastic vampire teeth…What's not to love about writing a story like that? But one of my favorite aspects of the work is how I played with genre. "Crazy, Sexy, Ghoulish" is a romantic comedy, but I often refer to as a "goth rom-com" because it takes elements from gothics–but twists them.
We all remember gothics: dark, shadowy tales of mystery and often romance, frequently featuring women roaming the halls at midnight wearing long white nightgowns and holding candles while handsome, brooding men hid away secrets. I've enjoyed how gothics continue to this day in new lines like Harlequin Shivers that keep with the tradition of dark, secretive heroes and sensible heroines "beguiled by male magnetism and allure against all better judgment."
"Crazy, Sexy, Ghoulish," though, does something different. Instead of the hero being dark and mysterious, I made the heroine, Nora, the one who's potentially mad, bad, and dangerous to know. Nora is a haunted house worker, dressing as various creatures of the night to scare guests like horror geek Brendan–and hiding a dark secret of her own. On the flip side, the hero Brendan is the innocent one, drawn to Nora perhaps against his better judgment, and with a personality type known to those of us in romancelandia as a beta. He's a nice guy, a nerd, and a virgin. (Though he doesn't wear any white nightgowns.)
It's a gothic, but subverted. Why do the guys get to keep all the secrets?
If you'd like to read an excerpt from "Crazy, Sexy, Ghoulish," sign up for my mailing list, where I'll be sending one out soon!
To learn more about I Heart Geeks, you can also follow Wyrd Romance on Twitter.