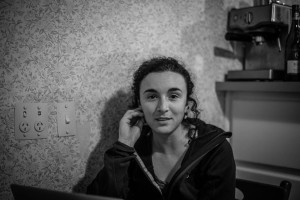 The Writers Who Read series continues this week with Devi Lockwood. Welcome, Devi!
Who are you?
Devi K. Lockwood. I'm a poet / touring cyclist / storyteller from Boston, currently traveling around the world by bicycle to collect 1001 stories from people I meet about water and/or climate change. As I write this I'm in Wooloweyah, NSW, Australia, taking a break from the bicycle to learn how to surf and skateboard.
Which book or series was your gateway into the world of reading?
I first fell in love with a poem––"Zinnias" by Valerie Worth.
Zinnias
Zinnias, stout and stiff,
Stand no nonsense: their colors
Stare, their leaves
Grow straight out, their petals
Jut like clipped cardboard,
Round, in neat flat rings.
Even cut and bunched
Arranged to please us
In the house, in the water, they
Will hardly wilt––I know
Someone like zinnias: I wish
I were like zinnias.
~
I must have found the poem on my teacher's bookshelf in the third grade. I remember thinking to myself wow, words can do that?! And then, I want to write like that.
Nowadays, what makes you crack open a book instead of pressing play on your favorite Netflix show?
The only Netflix show I watch is Orange is the New Black, which makes it super-easy to resist that particular addiction! There is some great storytelling in television, but to be honest I don't like sitting still for the length of an entire movie or episode. Plus, books are about a million more times practical for my lifestyle than TV shows. I like that I can leave off and pick up a story at any time, regardless of whether or not there's Wifi. Reading, for me, is relaxing. I read most nights before I get to bed. When I'm stealth camping in the bush alone, there's nothing like opening up a good book to make me feel relaxed and centered before sleep.
Which authors are auto-buys for you? Why?
Mary Oliver's poetry speaks a kind of truth that I can come back to again and again and always get something different. Adrienne Rich is more academic in her writing––I love to read her poems aloud and dream. Neil Gaiman writes stunning stories that stick to the inside of my ribs. Sharon Creech's narratives wove through my childhood as an early reader and stick with me still. I love her mode of storytelling and would read anything she writes.
What is your book kryptonite–those unique settings, tropes, or character types that make you unable to resist reading?
I like stories that deal with both an external and an internal landscape in a non-glossy way. I fall and get back up. I like characters who do the same. Travel is a plus. Quest narratives with female leads are my kryptonite.
What is your ideal time and place to read?
Snuggled in my down sleeping bag having just boiled water for a mug of tea, readying myself for a night of sleeping outside in my tent.
Are you a re-reader? Why or why not?
Only sometimes. I like to wait a long time before rereading a story so that I have forgotten.
I recently reread Garth Nix's The Old Kingdom Series that I loved when I was younger. The same goes for Sharon Creech's Bloomability. I could read that book 100 times, but I have only read it three times. There is so much good writing out there that I want to make sure I am constantly widening the scope of voices that make it into my life.
Poems are the exception. I find that the more times I read a collection, the more I get out of it. Poems are magic like that — they morph to show their many truths depending on what I bring to the table each time I open the slim volume. At the moment I'm rereading Jorie Graham's Sea Change.
Which books have had the biggest influence on your writing?
Maggie Nelson's Bluets.
Adrienne Rich's The Dream of a Common Language.
Anna Deavere Smith's Letters to a Young Artist.
What makes a book a satisfying read for you?
I studied Folklore & Mythology at university. I am fascinated by the intersection between poetry and storytelling. When a writer's words and sentences flow together and make something bigger than themselves––when the writing matters, somehow––I am satisfied. I like writing that guides me but also lets me bring my own story to the table.
What are you reading right now?
I just finished My Grandmother Asked Me to Tell You She's Sorry by Fredrik Backman––what a beautiful story! Right now I'm in the middle of The Empathy Exams by Leslie Jamison.
Devi K. Lockwood is a poet / touring cyclist / storyteller from Boston, currently traveling the world by bicycle to collect 1001 stories from people she meets about water and/or climate change. You can keep up to date with her travels at http://www.onebikeoneyear.wordpress.com, on Facebook, Instagram, Twitter, and Tumblr.