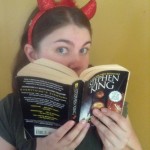 G.G. Andrew has written romances about poets, ghosts, reformed mean girls, grammar nerds, kleptomaniacs, cops, graffiti artists, and many, many horror geeks, but what they all have in common is they're filled with humor, heat, and heart. (And sometimes a Star Wars reference or two, because Star Wars.)
She writes about books for the BookBub Blog and has also written for Reductress, Lady Smut, A Love So True, and Culturess. An avid nerd, G.G. enjoys British comedy, black licorice, neon pink, frozen concoctions, monster movies, and any type of rom-com. She's probably drinking tea right now.
Join her mailing list on the right to get free stories, scenes, and sneak peeks at new books!
Other places where G.G. has been known to skulk:
Facebook
Instagram
Twitter (@writerggandrew)
Pinterest
Goodreads
Email: writerggandrew AT gmail.com