I'm both a writer and a huge book nerd, and I loved bringing these two interests together through Writers Who Read, a series of writer interviews particularly focused on books and reading that I did summer 2014-spring 2016.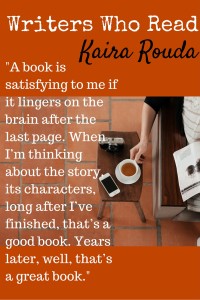 I interviewed writers–of all stripes, at all stages of their writing journeys–by sending them ten questions focused on their reading lives. Questions like, Which book or series was your gateway into the world of reading? and What is your book kryptonite?
The goals of Writers Who Read:
to provide an opportunity for authors to talk a little about what they write and a lot about what they read
to help readers (and reader-writers) discover new authors and books
to celebrate our shared love of books
to allow me to connect with and support other authors–something I discovered I loved to do!
**This series is currently on hiatus due to time constraints. I may resurrect it in the future, but if you'd still like to look around (which you should; there are some great authors featured here!), you can check out the interviews I've done in your favorite genre(s):
Comedy Writers Who Read
Literary Fiction Writers Who Read
Mystery and Suspense Writers Who Read
Nonfiction Writers Who Read
Poets Who Read
Romance Writers Who Read
Science Fiction and Fantasy Writers Who Read
Screenwriters Who Read
YA Writers Who Read