I'm so excited for Friday night's premiere of Constantine that I've taken to drink. It's not like I'm counting down the days or have watched the preview over three times, really, it's just that, you know, some shows demand a cocktail creation.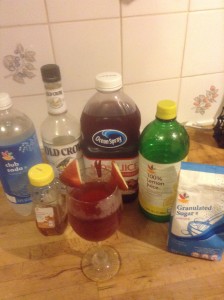 My Steamed Demon here is similar to a whiskey sour, except it's with red cranberry juice and the addition of a little pop and heat– just like hell. Plus there's a demonic garnish. (Pro tip: cut the garnish before consuming any cocktail.)
Ingredients for 1 Steamed Demon:
2 oz. bourbon
2 oz. club soda
4 oz. cranberry juice
1 tsp. lemon juice
1 T. sugar
1 red apple
Into your cocktail glass, pour the bourbon and soda and swish together.
Cut one side of the apple. Out of this, cut out two thick triangular wedges. Press these down perpendicular to your glass till they are speared on. Like horns. You may have to try a few times and lose a few apple slices, but sometimes you've got to suffer for your art.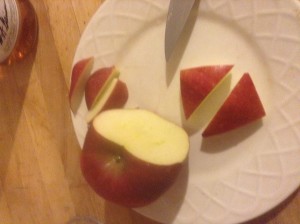 If you're handy with a knife, peel off a strip of the remaining apple skin and slice it into a thin strip, then cut a small triangle out of one end to make a forked tail. Smear a drip of honey on one side of your glass, and affix y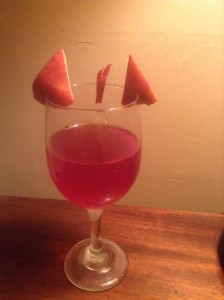 our demon tail to it. Sure, it'll fall off at some point, but you'll be too drunk to notice.
Heat the cranberry juice on low-medium heat till hot but not boiling. Add in the sugar and stir until dissolved. Remove from heat and let it set one minute. It might be dangerous to put a heated liquid into glass, but then again, so is demon hunting.
Pour the heated mixture into a glass with the bourbon and soda. The glass should steam, hence the name. Serve warm, while it's still heated and you've still got your soul.
Click here to read more in the Halloween 2014 series. Spiders and Sherlock and slut-shaming, oh my!