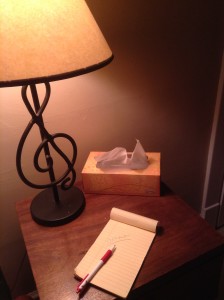 My friend Eva KL Miller reminded me on New Year's Day that, along with resolutions, she also chooses a mantra word for the year.
I had already mapped out my resolutions for 2015, specifying what I wanted to do, how much, and how often, but I hadn't chosen a word. So, inspired by Eva, I took a look at my resolutions and tried to see what united them.
One theme emerged: connection. This surprised me, given I'm pretty introverted, but so many of my goals for the year are focused on connecting with others. Calling family and friends more. Making an effort to sit down with my kids, both who have special needs, and teaching them together. Blogging here, but also commenting on others' blogs and tweeting authors when I'm loving a book they've written. Even my health goals to eat better and move consciously feel like trying to connect better to my body versus the disconnection and mindless eating that I've often experienced in the past.
My writing goals for the year are also focused on connection. I'm aiming to write at least 100,000 fiction words I either submit or publish. I'm one of those writers who has a lot of story ideas, which I often get very excited about right when I'm in the middle of another project. I don't want to end 2015 with a bunch of half-done stories, so I'm attempting to focus on finishing and connecting my words to readers.
What are your resolutions for 2015? And is there a theme that unites them?