The Writers Who Read series continues this week with Rita Arens.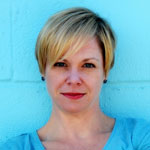 Who are you?
My name is Rita Arens, and I live in Kansas City, Missouri. I'm the author of the contemporary young adult novel THE OBVIOUS GAME and I edited a parenting anthology, SLEEP IS FOR THE WEAK and co-edited a food writing anthology, ROOTS: Where Food Come From and Where It Takes Us. I'm the deputy editor at BlogHer.com and I write the blog Surrender, Dorothy. I'm married and have one daughter.
What are three beloved books you first read before the age of 12?
A WRINKLE IN TIME; THE LION, THE WITCH & THE WARDROBE and WHERE THE RED FERN GROWS.
What is one book you are always recommending to friends and family (and maybe the local barista) as an adult?
CATCH-22, though I realize it's an acquired taste.
What is your book kryptonite–those unique elements in a book, beyond just great writing and three-dimensional characters, that make you unable to resist reading?
I have an odd affection for unreliable narrators, though I don't write them myself.
What is your ideal time and place to read?
I'll read anywhere, any time, but I really like reading outside in a hammock in the early evening.
Which books have had the biggest influence on your writing?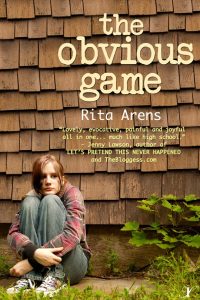 A PRAYER FOR OWEN MEANY; LOOKING FOR ALASKA; ASK THE PASSENGERS; THE BOOK OF JONAS; RULES FOR CIVILITY
How do you balance reading and writing in your life?
I read more when I'm writing less and vice versa, though I do tend to read about a book a week either way. Reading constantly makes my writing better.
Choose your preferred book form: ebook, physical book, or audio book?
I read ebooks faster, but I still do love holding a physical book.
Do you consciously plan your future reading–i.e., set book goals, keep a TBR list, participate in book challenges or book clubs? Why or why not?
I'm very active on Goodreads and had a reading challenge for myself for 70 books in 2014, mostly just to see if I hit that naturally. I wasn't pushing to achieve it. I'm in one book club at the moment with like-minded friends. I get tons of industry newsletters and have a lot of authors whom I follow, so I'm constantly adding to my TBR list and my library hold list. I do all that because I like to keep up with my favorite authors and because I like to try out different types of stories and TBR lists help me achieve that variety.
What are you reading now?
Right now I'm reading LITTLE BROTHER for my book club, SCARLET with my 10-year-old daughter, and I just started EVERYTHING I NEVER TOLD YOU from my TBR list. And I have a hankering to reread PET SEMETARY and WOOL just because they've both crossed my thoughts lately.
You can find out more about Rita on her website, Twitter (@ritaarens), or Goodreads. You can also check out her novel The Obvious Game, and the anthologies Sleep is for the Weak and Roots.