I'm excited to announce that my story SOMEWHERE WARM is now available for preorder at all major booksellers.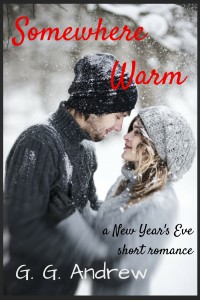 SOMEWHERE WARM is the first in my STUCK WITH YOU series, a group of standalone novellas where two people come face-to-face with extreme weather that forces them together…and creates just the right atmosphere to fall in love.
The story will release August 1st, to be followed by the next in the series this fall.
What's it about? Read on, or click here to read an exclusive excerpt.
~ ~ ~
What if you fell for your best friend's ex—the one that had made her life a living hell?
All Zoe had to do was pick up a box of her best friend Haley's things from her awful ex-husband, Evan.
She didn't expect her car to get hit by a snowplow. She didn't expect for the Maine snowstorm to start early. She didn't expect to be stuck inside Evan's cabin—alone with him—on New Year's Eve.
And, most of all, she didn't expect to come undone by the heat in Evan's eyes.
Out August 1st! Preorder now for $0.99:
Amazon
Barnes & Noble
iTunes
Kobo