I'm happy to announce that a romance anthology I contributed to, TASTE ME, TEMPT ME: 8 TALES OF SWEET & SPICY ROMANCE, is out today!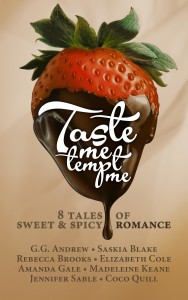 Sink your teeth into something delicious. Eight contemporary and historical romance authors offer tempting tales of love and lust through time, served hot. Some of these short stories are sweet, and some are spicy, but they're all perfectly portioned! So pull up a chair and get ready to indulge in a feast of love…
Available for a limited time only, this collection is $0.99, and all profits will go to Feeding America and Food Banks Canada to help feed the hungry.
I'm so happy to be a part of this anthology, and among such great contemporary and historical romance authors. I love how different all these food romance stories are, and I think you will, too. Just maybe don't read it on an empty stomach.
Want to read more? Tap here to learn more about each tale, and read an excerpt of my story, "A Taste of Ambrosia." In it, Jack, a young widower in 1963 American suburbia, can't look away from his sensual new neighbor. Unfortunately, she's got a recipe he needs. She may have everything he needs.
Grab your copy of TASTE ME, TEMPT ME on Amazon, or check it out on Goodreads!