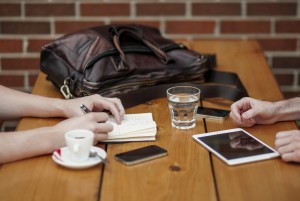 I'm a big fan of podcasts. They're not only a great way to keep entertained, but allow you to absorb information while commuting, cleaning, or driving your kid to school. Podcasts have made a huge impact in my journey as a writer: teaching me about the book world, inspiring me to self-publish, helping me craft better sentences.
Here are six of my favorites as a romance writer. (Though this is by no means an exhaustive list!)
The Creative Penn
Hosted by UK-based fiction and nonfiction writer Joanna Penn–the audio is worth it for her cheery British voice alone–this podcast is a wealth of writing and publishing interviews and advice, particularly for those interested in self-publishing and becoming saavy about the business of selling books and related products. Joanna interviews big names in publishing, as well as shares what she's learned, and the entire podcast is inspiring for those of us romance authors wanting to up our game.
Dear Bitches, Smart Authors (DBSA)
No list of romance podcasts would be complete without the DBSA podcast hosted by Sarah Wendell of romance supersite Smart Bitches, Trashy Books. It has interviews with authors, editors, and other experts in the romance field–plus many, many, MANY recommendations for your next romance to read. If you're new to the romance genre, or want to hear what subgenres and authors you've missed, check it out.
Magic Lessons
While not strictly a writing podcast, Elizabeth Gilbert's Magic Lessons, a continuation of the thoughts and ideas in her book Big Magic: Creative Living Beyond Fear, is a great way to remind yourself of the beauty, wonder, and courage involved in making art in any form. Gilbert interviews artists of all stripes as they struggle with their creativity, and the wisdom she offers them is usually fun, helpful, and inspiring. As I've mentioned before, Gilbert often uses sexy imagery in her descriptions of the relationship we have to creativity, which many romance writers can appreciate.
Pop Culture Happy Hour
This NPR podcast focuses mostly on pop culture as it relates to television and movies, but it's a great listen for any fiction writer because of its focus on story in many mediums: what makes a plot work, what's trending, which motifs have changed throughout the years. The crew and guests have a fantastic camaraderie, and host Linda Holmes is herself a romance reader. Bonus: in 2015 they dedicated an entire episode to romance novels.
The Self-Publishing Podcast
Like The Creative Penn, this is another biggie in the world of indie publishing, but romance authors on any path to publication can learn from writer-hosts Johnny B. Truant, Sean Platt, and David Wright about the writing and selling of books. Though they can tend to be NSFW and go on long tangents during some episodes, they're fun to listen to and they know their stuff: they're down in the trenches and sharing what's worked and what hasn't for them as writers in multiple genres.
Writing Excuses
Probably my current favorite, maybe because it's short (their tagline is, "Fifteen minutes long, because you're in a hurry, and we're not that smart.") and so jam-packed with great information on how to structure your story, write complex characters, revise…and much, much more. Hosted by writers Brandon Sanderson, Mary Robinette Kowal, Howard Tayler, and Dan Wells, the show is full of not only wisdom, but a heap of humor and warmth. They also host a writing workshop and retreat. On a cruise. If that's not a romantic way to learn about writing, I don't know what is.