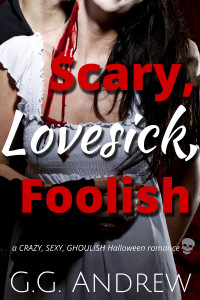 I'm happy to announce that my goth rom-com SCARY, LOVESICK, FOOLISH releases today!
SCARY, LOVESICK, FOOLISH is the sequel to CRAZY, SEXY, GHOULISH and continues the story of Nora and Brendan.
It was a question he had to ask…
Brendan Forrester loves his girlfriend, Nora. Like can't-live-without-her, Gomez-to-her-Morticia-Addams loves her. But when he asks her for more, he can't help but notice the look of fear in her eyes. Then a ghost from their past shows up at the horror festival they're both in, and Nora starts to change. Soon Brendan is remembering things he'd rather forget–including the voice of a certain girl he thought they'd long since vanquished.
It was a chance she couldn't pass up…
When Nora Travers is offered a part in a horror one-act directed by the daughter of a Hollywood bigwig, she knows she can't miss the chance–even if it means competing against her longtime boyfriend and getting back in touch with the mean girl she swore she'd never be again. But the past doesn't want to stay buried, and soon Brendan–her usually smart, adoring boyfriend–can't seem to stop sneaking suspicious looks at her. Or spying on her kissing scenes with her new co-star.
It's making them both wonder: do they have what it takes to make it through another Halloween?
Download it today, or check out an excerpt to see if it's your thing. I'm also holding an Amazon giveaway for a free copy of SCARY, LOVESICK, FOOLISH here through June 10th. Enter for a chance to win!
CRAZY, SEXY, GHOULISH is also now free at all stores.
Get SCARY, LOVESICK, FOOLISH today!
Amazon
Barnes & Noble
iBooks
Kobo
Smashwords