This is a guest post by the lovely Jen Heart, whose Austen knowledge totally trumps mine, and, more importantly, who has read all the books that have come out so far in The Austen Project, an effort to publish contemporary re-tellings of Jane Austen's six complete novels. Here is Jen to tell us what's working (and what isn't) in the project so far. 
Four entries in The Austen Project, a publishing venture to update Jane Austen's six major works, have now been released.  The first, Sense and Sensibility, did not disappoint.  The original is filled with heartbreak, loneliness, and longing that make it, in many ways, a very sad story, but S&S ends well because Austen writes recovery from heartbreak that manages to be sad, right, and romantic all at the same time.  Marianne doesn't really love Colonel Brandon as much as she loves Willoughby until the last few paragraphs of the book.  We're told that "in time" Marianne's heart became "as much devoted to her husband as it had once been to Willoughby." Only a genius like Austen could make that feel like a happy ending, which is why I'm thankful that Joanna Trollope's Sense and Sensibility doesn't quite have the reservoirs of sadness that its predecessor does.  Though Trollope keeps the essential plot, the basic characters and their personalities, and the same general relationships in tact, the desperation is missing.  Yet there's enough Austen to produce some of that lovely reading glow found only from her books. 
The second installment, Val McDermid's Northanger Abbey, was also a fun, clever, and well-crafted update. Like the original hero, this Henry Tilney is a bit of a bore, but the story is so fun it's easy to overlook.  In Emma by Alexander McCall Smith, the third update, "fusspot" Mr. Woodhouse supplies most of the comedy as Emma's hypochondriac father.  Both were fun, breezy entertainments that made me look forward for rereading the originals, a hallmark of a great re-telling.
If this were a relay race, Eligible, the fourth in the series, not so much takes the baton as flies off the course in a spaceship.
Pride and Prejudice is ~the big one~ and Eligible does a lot of things right.  Most of the characters update well.  Mr. Bennett is as droll and witty as ever.  Mrs. Bennet's relentless keeping up of appearances and wilful delusions feels 100% correct.  Kitty, Lydia, and Mary are immature, selfish, and annoying, just as in the original.  The big exceptions, though, are the most important ones: Liz, Darcy, Jane, and Bingley.  It's not that I disliked them; it's just that they weren't Austen.
I actually liked this Liz quite a bit.  Single in her late 30s, Liz has a pretty fulfilling life as a journalist (she interviews Kathy de Bourgh, the Lady De Bourgh update who is a Gloria Steinem-like feminist icon), enjoys a good relationship with her sister Jane, and is in general a pretty together lady.  After she encounters a former classmate with four children, the narrator observes, "It was generally less shocking to Liz that twenty years after high school she was still her essential self, the self she'd grown up as, unencumbered by spouse or child, than that nearly everyone else had changed, moved on, and multiplied."  Later, fueled by revelations from Darcy, when she finally wakes up to the worthlessness of Wickham's modern counterpart, Jasper Wick, a married man who has been stringing her along for years, the narrator informs us, "So many years–her entire adult life thus far!–wasted on this man.  And she was more to blame than he was." Yep!  I thought.  So great!  I love you, Liz, whoever you are, because you're not Elizabeth Bennet.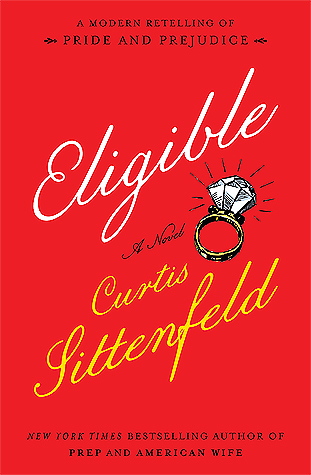 Or is she?  I really just don't know.  If Austen were writing today, would her Liz be having "hate sex" with the modern-day Darcy? Hate sex, by the way, which is not particularly hateful and more sweaty/gross than sexy.  (Sittenfeld must just really like sweaty grossness because Elizabeth's famous walk to Netherfield that improves her eyes and gives her a flush is replaced, for modern Liz, with a sweaty run that I can't imagine did anything for her appearance.)  
Eligible is a curious book.  Snarky satire?  Loving send-up?  I'm not quite sure what to make of it, but I picture a modern Austen delighting in it and, like me, waiting eagerly for Persuasion and Mansfield Park.
~
Have you read any of The Austen Project books yet? Let us know what you think so far!