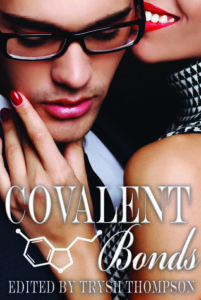 I'm excited to announce a World Weaver Press geek romance anthology I'm in, COVALENT BONDS, is now available for preorder! 
Covalent bonds aren't just about atoms sharing electron pairs anymore—it's about the electricity that happens when you pair two geeks together. This anthology celebrates geeks of all kinds (enthusiasts, be it for comics, Dr. Who, movies, gaming, computers, or even grammar), and allows them to step out of their traditional supporting roles and into the shoes of the romantic lead. Forget the old stereotypes: geeks are sexy.
This collection is available for a special geeky preorder price of $3.14. (Get it?) (It took me a while. #geekfail) I'm stoked to be part of this anthology, which also has stories from Laura VanArendonk Baugh, Tellulah Darling, Mara Malins, Jeremiah Murphy, Marie Piper, Charlotte M. Ray, Wendy Sparrow, and Cori Vidae.
COVALENT BONDS features my story, "Girl Meets Grammarian." What's it about?
Poet Eliza Stein is trying to establish herself as a new professor at a prestigious university. But when she meets and quarrels with the older Dr. Kunal Narang over sentence diagramming, she realizes it's going to be more difficult to stake out her place than she expected. If only Kunal wasn't so infuriating, so infuriatingly charming–or so good with his hands.
Sentence diagramming as sexy? Believe it or not, I made it happen.
You can read an excerpt of "Girl Meets Grammarian" here, or check out the collection at any of the fine stores below. Get your geek on!
Amazon
World Weaver Press
Barnes & Noble
iBooks
Kobo

Paperbacks are also available at World Weaver Press.