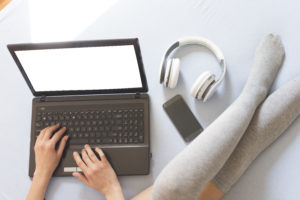 I've been a neglectful blogger here lately, but I've got good reasons, I swear! I'm still blogging over at the BookBub Blog and on Lady Smut, and also I've been finishing Stolen in Love, the second book in my Love & Lawbreakers series.
As I finished, revised, and edited this draft, I've thought a lot about how big a part music plays in my writing. I've always used music as inspiration–for my daydreams as a kid, and now as a writer–but the more I write, the more I consciously find and listen to songs that take me further into a story. I don't often listen while I write–too distracting–but more in those between moments, when I'm in my car or out walking and want to become more excited about the story…and thus come up with fun plot twists, bits of dialogue or character traits. (This is the most enjoyable part of writing fiction, I think.)
Sometimes these inspirational songs make sense to others, because of the lyrical content or emotion of the song. I listened to many Halloween-themed songs while I wrote Crazy, Sexy, Ghoulish, including a lot of the soundtrack to The Nightmare Before Christmas. For Jaded, Bearded, Wolfish, the third in that series, I was all about "Werewolves of London." (Of course. It's the most well-known song with howling, right? If there are others, please post below.) Adele's "Rolling in the Deep" brought me into the emotions of Nora and Brendan in Scary, Lovesick, Foolish when they are (maybe) breaking up and feeling raw in their anger, hurt, and passion towards each other.
And I've daydreamed so many of my stories to Leona Lewis' "Bleeding Love." Maybe because it's a fantastic song, maybe because so many of my stories have the opposites-attract, forbidden love vibe this song captures for me. (Though it's probably about a hundred times sillier when it comes out of my pen.)
It's not just the lyrics for me, though. Sometimes it's the very sound–or even the accent of the singer. When I hear the Pet Shop Boys' cover of "You Were Always on My Mind," I can't help but think of Graffiti in Love, because it became its theme song as I wrote it, not only because the sounds of that number brought out certain emotions in me, but because the lyrics were sung in a British accent, like the hero in that book had.
Some of my musical choices may be completely inexplicable to others. For my paranormal novella in the Under Your Spell collection, I put on Dolly Parton's "9 to 5." Though I wasn't writing about a downtrodden worker, the upbeat quality to that underdog anthem really reminded me of my main character in that story, who's driven to find the devil to reverse her bad luck.
So what did I listen to while writing Stolen in Love? Three things:
1.) Adele's "Water Under the Bridge." This song. THIS song. They've been playing it on the radio so much the past few months, but for me, it's been a boon because the lyrics and emotions are so much of what my heroine, Kim, experiences when she falls for Scott, a police officer. She's a kleptomaniac with a criminal record, and he's trying to uphold the law. They shouldn't want each other, but they do. Especially with Scott, his logical mind says he should respond to her one way, but his body (and heart) feel another way entirely. I imagine Kim singing this song to him, word for word.
2.) The Pretenders. When I finished Graffiti in Love and first started daydreaming about Kim's story, the music of the Pretenders really reminded me of her character. Their songs have this mixture of toughness and vulnerability I love and that I tried to capture with Kim. I especially love "Back on the Chain Gang," "Brass in Pocket," and the sweetness of "2000 Miles."
3.) Josh Ritter's "Where the Night Goes." My friend Jen of Heartforms introduced me to Josh Ritter, and I've been loving his music, which sounds like a blend of folk and pop to my ears. This song is probably my oddest choice, because the lyrics don't exactly match the story of Stolen in Love (with a slight exception of the "tough girl" part, though the rest of the line doesn't fit). But something about this song swept me away and got me in the headspace for finishing the novel.
Maybe I just really, really like these songs. And when you're listening to something you love, that's the best kind of inspiration for whatever you're creating.
What music have you been listening to? I love getting recommendations for songs or new artists, so if you have any, drop them in the comments! I'll be needing a new song for the novella I'm starting this month…
Psst! Speaking of Stolen in Love, it's currently on preorder for only .99! The book releases Saturday, May 13th, and after then the price will go up. So if second-chance romantic suspense is your thing, grab it now for just under a dollar!
Amazon
Barnes & Noble
iBooks
Kobo
You can find out more about the book here!