Happy October! 
This is definitely one of my favorite times of year–pumpkins, pumpkin chocolate-chip cookies, Halloween, horror movies, cooler weather, and so many new book releases. For those of you in the Halloween spirit, I've got 3 fun updates: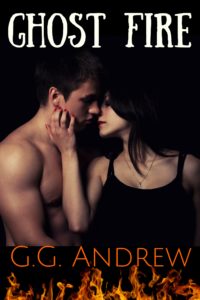 1.) First, my horror-romance novella GHOST FIRE is out today! Set in Paige Tyler's Dallas Fire & Rescue Kindle World, it's a romance between a haunted firefighter and skeptic and was so much fun to write. Here's what it's about:
When tenacious writer Laney Stonewater ropes firefighter Lucas Moore into staying overnight at the supposedly haunted Cattleman's Crossing Inn, both of them will get more than they bargained for. The inn was the site of a blaze that killed a man 20 years ago and left Lucas with a strange burn mark on his arm and memories he'd rather forget. Along with a psychic, the victim's widow, and an amateur ghost hunter, Laney and Lucas set out to learn if Cattleman's Crossing went up in flames due to a simple mistake…or something much more sinister.
As the night grows darker–and the inn grows warmer, stranger, and more surreal–Laney and Lucas discover they've got a connection that burns as hot as any blaze and could have staying power beyond the haunted walls of the inn. 
But first they must survive the night…
You can grab a copy on Amazon here!
 2.) Second, I'm part of a fun page this month on Facebook called
Halloween Romance
.
We're celebrating all month with ebook giveaways, ghost stories, funny memes, posts about our favorite vampires, and more
.
We're also watching and chatting about some awesome movies this month, including
Practical Magic
tonight. I'm on the page today talking about
Ghost Fire
and the bat cardigan I'm coveting and doing a big giveaway. Come
like the page
and join us! Costumes optional.
3.) Finally, this week
I was on Binge on Books' fun series Sounds Like Halloween
. This is an audio series of authors reading from their spookiest (or Halloween-y-est) stories every day in October, and I was so grateful to be among such awesome writers as Sherry Thomas, Christina Lauren, and Charlie Jane Anders.
I read from the first chapter
of
Crazy, Sexy, Ghoulish
… Check it out and let me know what you think!
Happy October and HAPPY HALLOWEEN!