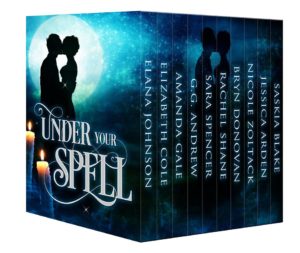 UNDER YOUR SPELL: A ROMANCE BOXED SET OF MASKED BALLS, HAUNTED GARDENS, MAGIC, AND MORE
Order now from Amazon for a special price of $0.99!
Fall under the spell of ten up-and-coming romance authors. When the clock strikes midnight on Halloween, you'll want to read every one of these all-new, original novellas. From enchanted gardens to mystic curses, you'll find something to make your spine shiver and your heart beat faster. Fall in love with a cursed werewolf, a heartbroken ghost, a true southern gentleman, and many more. There's something for everyone, with contemporary romance, historical romance, paranormal and shifter romance.
Everyday is Halloween with this spellbinding collection!
Featuring my novella To Hell with Love.
Daisy has the perfect night with the perfect guy–only to wake and find he's sold his soul to the Devil and has no memory of her. Now she's got to navigate the underworld, unbalanced goddesses and unpleasant demons–not to mention a cute med student posing as Charon–to meet the Devil and reverse the curse…and discover that what she really wants may be something else entirely.
~
EXCERPT from To Hell with Love: 
Chapter One
Daisy froze, clutching a thick paperback romance in her hand. She tilted her head and listened.
There was something on the other side of the bookshelf.
There, one row over, it came again. The sound of heavy footsteps and a deep, shuddering breath. Something big moving over there by the mystery section.
Something not human.
She spun around, her curls bouncing, and looked at the bookstore owner. Daisy had thought she was the only other person in the store.
"Excuse me, is there another person in here? Or a cat?" she asked.
A cat with emphysema, maybe. A very overweight cat with emphysema.
The woman behind the counter could've been thirty or fifty; it was hard to tell with her plain face and giant glasses magnifying round gray eyes. The owner stared at her and slowly shook her head.
When Daisy had come into the bookstore 10 minutes ago, she'd just intended to buy a romance novel. The perfect thing one did the night before one turned 30, she'd thought wryly. Read about an imaginary hot guy and daring adventures while drinking alone in an empty apartment.
A creak came from the hardwood floor a few feet away. The mysteries again.
The bookstore was one she'd never visited before. It was small, full of narrow, jagged aisles crammed with too many books shoved onto the shelves or paperbacks stacked haphazardly against the wall. Daisy suddenly had a vision of becoming a tragic female murder victim, the large breathing thing in the next aisle sneaking up to stab her and make her bleed out all over the nearby pile of Dan Brown novels. It was no way to die.
No, she would face this head-on, be it man or beast. Like the heroines in the novels she loved so much. Squishing the paperback into a gap on the shelf, she rounded the corner where the travel section stood, the covers all blue seas and white Grecian castles, and then—
Something hard hit her in the face.
"What! Ow!"
It was a book. A big book. Right on the nose—her one good feature! Daisy's wild blond curls never had domesticated, and she was too short, nearly rejected for certain rides at the carnival. But her freckled nose had always earned her at least an endearing adjective: cute.
Her hand flew to her face as her eyes teared up from the impact.
"Pardon me—I'm so sorry," a deep male voice said.
She gazed up to see the owner of the voice. Cute would not fit him, not this man. He was gorgeous. Six feet tall, a strong body underneath a business suit. Thick brown hair, square jaw. Blue eyes that looked distracted.
"I'm so sorry I hit you." The man was uneasy, his eyes darting around. He didn't seem to be breathing hard, though. Not much like a cat with emphysema.
In his hands he held the offending volume that'd smacked her. Something to do with depression.
Daisy's hand was still over her nose, so her voice came out muffled. "It's okay."
Boy, was it ever.
She removed her hand from her face, smoothed down her hair, and said the next thought that popped into her head. "I don't need my nose anyway. I'm really more appreciative of my eyes right at this moment."
The man smiled slightly, but it looked as if he hadn't done it in a while and didn't know exactly what to do with his lips.
"Well, it doesn't look like a break," he finally managed. "I think you'll make a satisfactory recovery." He reshelved the book.
She smiled. "I suspect I'll make a full recovery now."
The man's smile widened more naturally and his eyes brightened. "Oh?"
"Yes. I'm feeling almost back to normal. Better than normal, in fact." Imagine, just as she was so down in the dumps on her birthday eve—and frightened that she was going to be attacked by some giant creature who liked to read Mary Higgins Clark—the moment had come: her own meet-cute!
Meet-gorgeous, she amended as she admired the way the man's broad chest filled out his suit.
A sound, like a door opening and closing, came from the rear of the store.
She glanced around, suddenly recalling the heavy breathing—and became aware they had an audience.
The woman behind the front counter was staring between them and the back of the store with her giant bespectacled eyes.
"Are you sure there's not another person here?" Daisy asked her.
The clerk shook her head again. "Not another person," she finally rasped.
The man took a quick peek behind him. "Do you want to get out of here?"
"Yes. Very much." Between the strange sounds and the owl-eyed clerk, she was ready to leave the bookstore behind. With a good-looking man on her arm. "As long as you're leaving too, I mean."
The man walked to the door and held it open for her. "You know," he said as she passed him and entered the cool, dark night, "I've had one of the worst days of my life today. But now I feel like maybe things aren't so terrible."
"They're not," she assured him, feeling so light on her toes as she strolled down the sidewalk that she was nearly dancing. How could a man that handsome ever be depressed? "But perhaps we could help cheer each other up, just in case."
They walked down an empty sidewalk, the night sky above them cold but clear, the bright stars shining down on them.
~
Daisy was so distracted by the man beside her that she missed it: the sound of footsteps and heavy breathing from the shadows behind them.
Want to keep reading? Grab a copy from Amazon today!