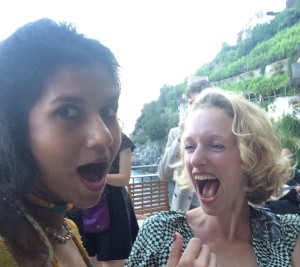 Our Writers Who Read series continues with writer Tanya Selvaratnam.
Who are you?
Tanya Selvaratnam, a writer, producer, actor, and activist based in New York City and Portland, OR. I was born in Sri Lanka and raised in Long Beach, CA. I'm the author of The Big Lie: Motherhood, Feminism, and the Reality of the Biological Clock. Part memoir, part manifesto, it's about the choices women have to make and how those choices impact the future. The Big Lie is that we can do things on our own timetables. The Big Lie is that there is such a thing as work/life balance. The Big Lie is that we don't need feminism anymore.
What are three beloved books you first read before the age of 12?
Silas Marner by George Eliot
Jane Eyre by Charlotte Bronte
The Famous Five series by Enid Blyton
As a child, I spent a lot of time in Sri Lanka. Being a former British colony, works by British authors were abundantly available. I bought Enid Blyton books in the local bookstore.
When I was young, books were my salvation… an escape, a comfort, a window to unexpected worlds and ideas. Earlier this year, I read a story in the news that, according to Common Sense Media (the San Francisco-based nonprofit which focuses on the effects of media and technology on children), young people are reading much less than the generation before and also they are reading less proficiently. We need to fix that.
What is one book you are always recommending to friends and family (and maybe the local barista) as an adult?
Wave by Sonali Deraniyagala. The writing is gorgeous, spare, vivid, devastating, and ultimately uplifting.
What is your book kryptonite—those unique elements in a book, beyond just great writing and three-dimensional characters, that make you unable to resist reading?
Humanity, depth, alternative universes, rhythm, a writer who is putting their guts on the floor, courage, a wild imagination, a fantastic sense of humor, writers who think big but make the ideas accessible, compassion, empathy, and humility.
When I come across a book that blows me away, I then buy many books by the same author and read them one after another. I've done that with work by Michael Ondaatje, Yasunari Kawabata, and lately Anne Carson.
What is your ideal time and place to read?
On the subway or bus any time of day or night, and in bed before I fall asleep. I can never read on planes.
Which books have had the biggest influence on your writing?
When I was writing The Big Lie, I read a number of memoirs that influenced me, including Wave by Sonali Deraniyagala, Wild by Cheryl Strayed, and Drinking: A Love Story by Caroline Knapp. I was also inspired by Natalie Angier's Woman: An Intimate Geography—the depth of her reporting and the openness of her voice.
How do you balance reading and writing in your life?
The harder aspect of my life is balancing producing and writing. At this point, I do one to support the other, but they require such different types of focus and ways of being. With reading and writing, I have to be reading something while I'm writing. I need to lose myself in one or the other. In my bag, I always keep a book to read and a notebook to write in. As for balance, if I'm actively working on a book or piece, I try to sit at my desk for a minimum of three hours. Whether I write a word or a page, I feel like I've done something. I also meditate every day, a practice I started two and a half years ago.
Choose your penned poison: ebook, physical book, or audio book?
Physical book! I like the touch, the look, the smell of it. I like folding the corners of pages I especially want to remember. I'm working on a piece about book deserts, the possible long-term effects, and tangible solutions. Recently, I saw Sylvia Whitman of Shakespeare & Co (I produced a short film about her a few years ago), and I am so inspired by her steadfastness and joy. In the face of extreme and irrationally unchecked challenges towards physical books and bookstores, she has figured out ways to adapt her business and thrive.
Do you consciously plan your future reading—i.e., set book goals, keep a TBR list, participate in book challenges or book clubs? Why or why not?
I have a book club that meets sporadically. It's really just me and a friend, and we invite other friends to join us for sessions. Among the books we've discussed are Wave by Sonali Deraniyagala, Super Sad True Love Story by Gary Shteyngart, Asunder by Chloe Aridjis, Remainder by Tom McCarthy, and the poetry of Matthew and Michael Dickman. Aside from the book club, I read what friends recommend or what I discover while browsing in bookstores.
What are you reading now?
A lot of Cesar Aira, whom a writer friend recommended. I recently finished An Episode in the Life of a Landscape Painter and The Hare. Now I'm on Shantytown. Aira is from Argentina and has written more than seventy books in Spanish. New Directions released translations of some last year, so now I can read them. In addition, I just started Jenny Davidson's Reading Style: A Life in Sentences, about loving to read.
Tanya Selvaratnam's work has appeared in Vogue, Bust, Paper, xoJane, Huffington Post, Pop and Politics, the Toronto Review, Art Basel Magazine, the Journal of Law and Politics, on Women's eNews and CNN. She has produced work by Gabri Christa, Chiara Clemente, Catherine Gund, Mickalene Thomas, Carrie Mae Weems, and Jed Weintrob; and toured around the world in shows by The Wooster Group and The Builders Association. Tanya has been a fellow at Yaddo and Blue Mountain Center. She received her B.A. and M.A. in Chinese language and history from Harvard University.