The Writers Who Read series continues this week with writer Chrissy Kolaya.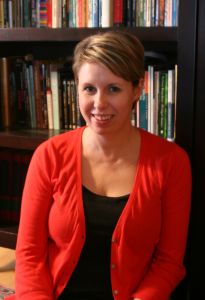 Who are you?
I'm a poet and fiction writer, parent, and partner. I teach writing at a small university in rural Minnesota. My books are Any Anxious Body, a book of poems published by the fabulous Broadstone Books in spring 2014 and a novel, Charmed Particles, which will be published in spring 2016 with Dzanc Books. If you're curious, you can learn more here.
What are three beloved books you first read before the age of 12?
I adored the Anne of Green Gables series as a kid. I also loved Susan Cooper's The Dark is Rising series and The Cricket in Times Square. I feel like I could go on and on! This is the period of my life when books felt more important to me than any other time of my life so far.
What is one book you are always recommending to friends and family (and maybe the local barista) as an adult?
Only one?
I love David Mitchell, especially A Thousand Autumns of Jacob de Zoet.
Right now I'm enamored of Hilary Mantel's Cromwell series.
I'm also obsessed with this hilarious book my husband gave me as a gift called Bigfoot: I Not Dead by Graham Roumieu.
What is your book kryptonite–those unique elements in a book, beyond just great writing and three-dimensional characters, that make you unable to resist reading? 
Weird visual elements like the footnotes in Susanna Clarke's Jonathan Strange and Mr. Norrel.
Innovative design like Anne Carson's Nox.
Books that have you wondering "what exactly is this?" like Maira Kalman's The Principles of Uncertainty, and Alan Fletcher's The Art of Looking Sideways and Picturing and Poeting.
Also, books that are particularly good at conveying the feeling of a certain time of year or a certain place. I'm thinking here of a book I reread over and over again as a kid, mainly because it made me feel especially "Halloween-y."
What is your ideal time and place to read?
Ideal: I'm writing this during winter in Minnesota, so someplace soft, warm, and full of blankets.
Reality: Any time I can find a quiet moment and a (relatively) quiet spot.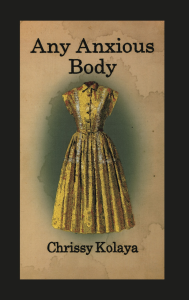 Which books have had the biggest influence on your writing?
The poems of Kenneth Koch, Frank O'Hara, Robert Hass, and Dean Young.
The novels of Alice Thomas Ellis, Barbara Kingsolver, Hilary Mantel, and David Mitchell, Waterland by Graham Swift, Atonement by Ian McEwan.
The graphic novels of Lynda Barry, and Alison Bechdel's graphic memoir Fun Home.
The short fiction of Jhumpa Lahiri, Charles Baxter, Adam McOmber, and Christine Sneed.
How do you balance reading and writing in your life?
I teach writing, which, consequently, means reading and commenting on a lot of student work. This means that during the academic year, I'm often not reading much aside from what I read for classes or for my own research, which is not necessarily a bad thing–I love to geek out over my research reading, and there's much to be learned from reading and engaging with student work. Summer's when I have some time to pleasure read a bit.
Choose your preferred book form: ebook, physical book, or audio book?
It used to be physical book, no question, but lately, I've found that the only way I can pleasure read during the academic year is via audio books. I listen while making dinner or doing housework–A Song of Ice and Fire (the Game of Thrones series) got me through piles and piles of dirty dishes!
Do you consciously plan your future reading–i.e., set book goals, keep a TBR list, participate in book challenges or book clubs? Why or why not?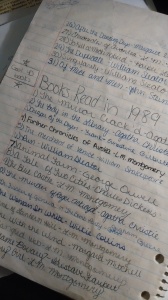 I don't plan my future reading, but since I was a child, I've been a careful recorder of my past reading. I have a notebook where I've been keeping track of every book I've read since I was a kid (with some gaps in record keeping—or, perhaps, in actual reading–during those foggy, early-parenthood years). Looking at it today, here are a few things I've noticed:
* I read a weird amount of Agatha Christie for a 12-year-old girl.
* How hilarious Helen Gurley Brown's Sex and the Single Girl seemed in 1994 (sleep in full makeup so your boyfriend never has to look upon your un-made-up face!).
* I had forgotten how much I loved The Westing Game and Helen Cresswell's Bagthorpe series! I can't wait to read these with my sons!
* I loved me some tear-jerkers in high school and was also strangely obsessed with Paul Harvey.
What are you reading now?
Mostly work stuff: end-of-semester papers by my students, a cool book about literary citizenship called The Write Crowd by Lori A. May, and the texts I'll be teaching next semester, but on my reading list for winter break are T. H. Huxley's Diary of the Voyage of H.M.S. Rattlesnake and the Narrative of the Voyage of H.M.S. Rattlesnake by John MacGillivray, two books I'm reading for research for a novel I'm in the middle of.
Chrissy Kolaya is a poet and fiction writer, author of Any Anxious Body (Broadstone Books), and the forthcoming Charmed Particles (Dzanc Books, spring 2016). Her short fiction has been included in the anthologies New Sudden Fiction (Norton) and Fiction on a Stick (Milkweed Editions). Her poems and fiction have appeared in a number of literary journals. She has received a Norman Mailer Writers Colony summer scholarship, an Anderson Center for Interdisciplinary Studies fellowship, a Loft Mentor Series Award in Poetry, and grants from the Minnesota State Arts Board, the Lake Region Arts Council, and the University of Minnesota. 
You can find out more about Chrissy on Twitter (@ChrissyKolaya) or her website.