The Writers Who Read series continues this week with Laura Madeline Wiseman.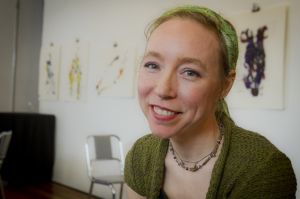 Who are you?
I'm an avid long-distance cyclist and train for big rides like RAGBRAI year round. I tend a vegetable garden in the summer. I have three cats and a dog.
I am also the author of the collaborative book of short stories The Hunger of the Cheeky Sisters: Ten Tales with artist Lauren Rinaldi, just released from Les Femmes Folles Books. I teach English and Women's and Gender Studies at the University of Nebraska-Lincoln.
What are three beloved books you first read before the age of 12?
The Laura Ingalls Wilder series, The Grimm Fairy Tales, and all the Dr. Seuss books. I also especially loved A Child's Garden of Verses by Robert Louis Stevenson.
What is one book you are always recommending to friends and family (and maybe the local barista) as an adult?
I adore books by Ann Patchett. I recently read This is the Story of a Happy Marriage, but my favorites are Truth & Beauty and State of Wonder. Since I'm such a glutton for books and because I read so many, I usually go on recommendations cycles.  I recommend one book to everyone for awhile and then move on to the next. It was Quiet by Susan Cain. Then it was State of Wonder. Right now, it's Donna Tartt's The Goldfinch.
What is your book kryptonite–those unique elements in a book, beyond just great writing and three-dimensional characters, that make you unable to resist reading?
I adore strong female characters.
What is your ideal time and place to read?
Over the last few years, I've developed a deep love of reading while riding trains or while driving. I read Rainbow Rowell's Eleanor & Park first while driving from Kentucky to Nebraska last summer, returning from a reading I gave at Firefly Farms. I also like to read in bed, print or audio books. I read all of The Hunger Games and the Divergent series at night, the stories of Katniss and Tris underscored by the oceanic purr of cars on the road, the wind in the humid night trees, and lowing of owls. I've also read my fare share of books at my desk, for teaching prep, research, and for creative inspiration.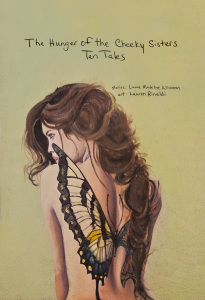 Which books have had the biggest influence on your writing?
For The Hunger of the Cheeky Sisters, I know that Margaret Atwood was a huge influence, because I've been reading her fabulous stories for years, but also because I have several of her short story collections like Bluebeard's Egg and Other Stories and Dancing Girls.
How do you balance reading and writing in your life?
I write reviews of books that I adore. That gives me the opportunity to really read a few books really well. I read for inspiration. There's something about reading poetry that jump-starts my creative muse and enables me to begin writing. Even if I lose a few hours in the wondrous world an author has created and never get that feeling and inspiration to write, I always feel it was time well spent. How else would I have ever have read Elizabeth Gilbert, Cheryl Strayed, Jeannette Walls, Annie Proulx, Octavia Butler, Mary Karr, and Jesmyn Ward? Sometimes, when a book grabs you, you have to let it grab and hold on until the last page.
Choose your preferred book form: ebook, physical book, or audio book?
I haven't yet read an ebook, but I do like the Poetry app created by The Poetry Foundation. I prefer physical books for research, work, and teaching and audio books for travel and night reading. The first book that got me hooked on audio books was Jim Dale's performance of all the characters in the Harry Potter series. I've also recently fell in love with Scott Westerfeld's Uglie series, Julianna Baggott's Pure, and Laurie Halse Anderson's books like Wintergirls—all read on audio. There's something deliciously fun about in sinking into the abyss of YA and kid books.
Do you consciously plan your future reading–i.e., set book goals, keep a TBR list, participate in book challenges or book clubs? Why or why not?
I have a shelf and a drawer of books to read, usually books I've picked up from recent readings and conferences. When I'm doing research, I do assign myself a reading list and work through that list until I've come to find out what I hoped to know. For example, when I began creating and sequencing The Hunger of the Cheeky Sisters, I reread every short story collection on my shelf in order to gather a sense of how other authors organized their stories, how tightly bound each story was to the one that proceeded it or followed it, and what made for a provocative collection of fiction. Because The Hunger of the Cheeky Sisters is also a collaborative book and illustrated by an artist, I also went through my shelves and made a rereading list of all the books that combined art with words, including children's books like Where the Wild Things Are, The Lorax, and Anne Sexton's Grimm Fairy Tale retelling Transformation. I always feel like such created lists and goals offer me the opportunity to study what has been done before, to give me the sense of what might yet be possible.
What are you reading now?
Right now, I'm reading Cat Dixon's Too Heavy to Carry, two books by Kristina Marie Darling, the yet-to-be release sequel to Kathleen Glassburn's dime novel A New Plateau, and Alyse Knorr's chapbook Alternatives.
Laura Madeline Wiseman is the author of more than a dozen books and chapbooks and the editor of Women Write Resistance: Poets Resist Gender Violence (Hyacinth Girl Press, 2013). Her books are American Galactic (Martian Lit Books, 2014), Some Fatal Effects of Curiosity and Disobedience (Lavender Ink, 2014), Queen of the Platform (Anaphora Literary Press, 2013), and Sprung (San Francisco Bay Press, 2012). Her dime novel is The Bottle Opener (Red Dashboard, 2014). With artist Sally Deskins, her collaborative book is Intimates and Fools (Les Femmes Folles Books, 2014). Her most recent book is the collaborative collection of short stories The Hunger of the Cheeky Sisters: Ten Tales (Les Femmes Folles Books, 2015) with artist Lauren Rinaldi. She holds a doctorate from the University of Nebraska-Lincoln and has received an Academy of American Poets Award, a Mari Sandoz/Prairie Schooner Award, and the Wurlitzer Foundation Fellowship. Her work has appeared in Prairie Schooner, Margie, Mid-American Review, and Feminist Studies. Currently, she teaches English and Women's and Gender Studies at the University of Nebraska-Lincoln.
Twitter: @DrMadWiseman
Website: www.lauramadelinewiseman.com