The Writers Who Read series continues this week with Maiga Milbourne.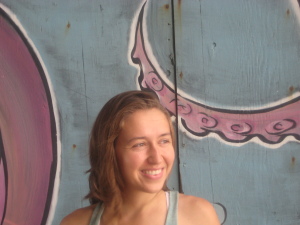 Who are you?
Maiga Milbourne, hawking an assortment of low-fee services! Among them, I teach yoga, design and lead international retreats, write, run a sustainable landscaping business with my husband, and establish a permaculture-influenced farm in my suburban backyard. I feel like I make art in several mediums: moving flesh in yoga poses, words in my literary pursuits, and painting with a palette of dirt and plant life in the big, wide world. I'm really excited about an upcoming yoga and writing retreat, co-lead with poet, Caits Meissner. Everything you could want to know about it is organized on www.mythicbeingsretreat.com.
What are three beloved books you first read before the age of 12?
I vividly remember reading The Secret Garden while I was in second grade. I sat on my grandmother's velvet couch in her musty house and felt furtive, ancient, other-worldly. I specifically remember the grade because I was conscious and proud of being precocious (lord). I think that planted the seed to read in an environment evocative of the book's world. To this day, I find authors who are from or writing about my travel destination.
The place keeps preceding the read: I next remember reading Are You There God? It's Me, Margaret at a middle school sleepover. I was laying on my friend's twin bed. We kept giggly questioning each other about menstruation.
I also had a deep affinity for Chaim Potok. I always read late into the night. My Dad told me to go to bed, so I switched to reading in the bathroom. I remember him asking me, "If everything was OK?" I'm sure he thought I'd gotten my period. I was just busy reading, The Chosen, and My Name is Asher Lev, and writing un-answered fan mail to the author.
What is one book you are always recommending to friends and family (and maybe the local barista) as an adult?
I make specific recommendations. You have to read The Lacuna by Barbara Kingsolver in Oaxaca, Mexico. Bring Edward Abbey's books to the Southwest. Pack I, Rigoberta Menchu for travels in Guatemala. If you can't go to Turkey, at least eat dates while reading Nazim Hikmet's poems. There is no reason why reading shouldn't tantalize every sense.
What is your book kryptonite–those unique elements in a book, beyond just great writing and three-dimensional characters, that make you unable to resist reading?
I fucking love the art of writing. You know? An author that isn't self-conscious, but just themselves. The writing is informal, familiar, and utterly engaging. Alternately, I keep a thesaurus nearby, but it's worth it because I've never been told about betrayal and the Greek Isles in just.this.way. Barbara Kingsolver is one of my favorite authors because she's elegant and I want to know her perspective on monarch butterflies and liberation struggles in the Congo. I will always and forever love Octavia Butler because she is so carefully spare and plot driven. Neil Gaiman is a god-damn sorcerer and I am always captivated. I am enchanted by his ability to be an atmospheric writer and relentless story-teller.
What is your ideal time and place to read?
Always. I like to vacation on a pretty mountain and sit with a book. Alternately, I like to relax at the beach with a book. Daily, I wake early, teach yoga at 6 am (true story) and then go to my favorite coffee shop. I purchase an iced coffee (I don't care if it's winter!) and a mercilessly toasted everything bagel with butter. Sweet, savory in the mouth, book in hand. I usually read for at least a half hour every morning, schedule-contingent.
Which books have had the biggest influence on your writing?
I turn to bell hooks a lot when I need a writer's voice in my head. She's certainly a writing mentor– I find her clear, fresh, concise, and imaginative. Nazim Hikmet's poetry continues to be an influence– the rich images, simplicity, detail. I love Barbara Kingsolver's characters. The Lacuna haunts me in the best possible way. I'm continually awed by the ambition and realization of that book. I think of the architectural prowess of books like The Girl With the Dragon Tattoo series as well as the weight of language employed by Richard Wright or James Baldwin.
How do you balance reading and writing in your life?
I try to read for at least a half hour every morning during breakfast. I always have a book with me in case I find myself waiting for an appointment or with unexpected time. I have less of a consistent writing practice. Writing is usually tucked in between assignments on a work day. I've found myself hit with a story on a long road trip. I realized that the window opened on the story because of unstructured time– my mind could wander and explore. The last time this happened I ran home and locked myself in a room to write. Trouble is, my energy is best in the morning and we had finished the road trip in the evening. I made notes, but had lost the meat of the work. Having open time in the morning tends to be when I produce my best work.
Choose your penned poison: ebook, physical book, or audio book?
Physical book. A lot of my travel weight is books. I don't care! I buy used copies and leave them in hostels when I'm done. When home, I frequent my library.
Do you consciously plan your future reading–i.e., set book goals, keep a TBR list, participate in book challenges or book clubs? Why or why not?
I'm in a book club so that dictates some but not all reading. I keep a GoodReads log just in case I wind up at the library directionless. For now, I'm working my way through my own bookshelves. Between my husband and my collections, there are plenty of titles I haven't read. I also research books set in destinations I travel to or written by local authors.
What are you reading now?
Olive Kitteredge by Elizabeth Strout. I asked Facebook for suggestions on novels steeped in Maine for a recent camping trip to Acadia. I wound up hiking more and reading less, so a week back home I'm still digging in.
You can find out more about Maiga on her website, Twitter, or Facebook.