The Writers Who Read series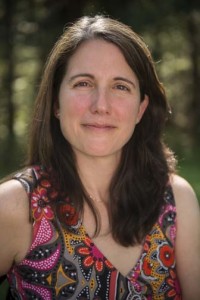 continues this week with poet Karen Skolfield.
Who are you?
I'm Karen Skolfield, poet. My book Frost in the Low Areas won the 2014 PEN New England Award in poetry.
I'm also Karen Skolfield, mom, wife, teacher, veteran, hockey coach. Of those, it's the "mom" label that's been most surprising. I thought parenting was something you did, not something you enjoyed, so how nice to be a parent and find myself enjoying it. Even the parts that are less enjoyable (stomach bugs, child antsyness at poetry award ceremonies) often make funny stories later. Like my son stage-whispering "Blah blah blah" while I was being introduced for the New England Public Radio award… wait… that's actually not funny for me yet. Give me a year.
What are three beloved books you first read before the age of 12?
Madeleine L'Engle's A Wrinkle in Time, C.S. Lewis's The Lion, the Witch, and the Wardrobe, and E.B. White's Charlotte's Web immediately come to mind, but I could easily list others. At that age I read constantly. I think I could never again be the reader I was then – delighted by so much, often surprised, bereft at the ends of some books. I was in love with words and stories in a very raw way.
What is one book you are always recommending to friends and family (and maybe the local barista) as an adult?
Oh, this changes month to month. Recently I've been head-over-heels for Katherine Boo's Behind the Beautiful Forevers (nonfiction), Jericho Brown's The New Testament (poetry), Claudia Rankine's Citizen (poetry), NoViolet Bulawayo's We Need New Names, and Emily St. John Mandel's Station Eleven (post-apocalyptic fiction). Did you say one book? I can really get on a roll with book recommendations. I'm certainly not the pre-teen reader anymore in sheer volume, but if I love a book, I'm still swept away by it, still in mourning when it's over. And then I want others to mourn with me.
What is your book kryptonite–those unique elements in a book, beyond just great writing and three-dimensional characters, that make you unable to resist reading?|
I love, in poetry, writers who are willing to give themselves, to not be coy with me. Sometimes this means it's very autobiographical; sometimes the poets are willing to be honest about feelings or vulnerabilities or reactions. I have been gut-thumped, heart-bruised by so many incredible poems. I think that without these poems, my heart would have slowed to almost undetectable levels many years ago.
In prose, I read widely, from sci-fi to nonfiction to historically set novels to books my mother-in-law saves for me to books that win Pulitzers to books from the dump. My town has a reading shed at the dump and people drop off their books – don't knock it. My town's dump is awesome. I have a particular weakness for books from the dump. I'm not often into bestsellers, and I am discouraged on every level when the "must-read" author lists of The New York Times and NPR are blindingly white. As readers, as makers of these lists, who are we if we can't diversify our reading? I don't want to read only books by people who occupy the very tiny niche I live in. Books by people who are not my exact demographic continue to make me a better person, a more compassionate and thoughtful person; they challenge me in great ways. Also, they're really excellent books! I'm happy that Book Riot proposed another summer reading list, with books by Xiao Bai, Anna Freeman, N.K. Jemisin, Nnedi Okorafor, and more. So that's my book kryptonite: diversity.
What is your ideal time and place to read?
I will admit that I sometimes feel guilty reading. A couple of weeks ago, in the middle of the day, I sat down to read a little bit, China Miéville's Embassytown. And I was like, my god, I should be writing, not reading, especially not reading prose, especially especially not science fiction.
I do read every night, after the kids are in bed, for at least a half hour. I'm not sure if that's an ideal time, but what, in life, gets to be ideal?
Which books have had the biggest influence on your writing?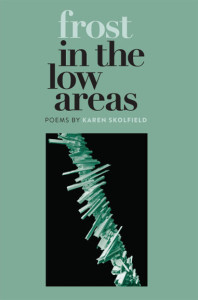 This is going to sound flippant, but I honestly don't know, especially if we're including prose here. I think it's hard for writers to see their influences – it's like asking how I'm like my parents. I can parrot some answers others have said to me (I know I have my mom's eyes, I owe a debt to poetic parents such as James Tate and Elizabeth Bishop, I drive by Emily Dickinson's house every day so I've probably soaked up some ED vibes), but beyond that it's me guessing. So here I am guessing:
I cannot think of authors such as Chinua Achebe, Isabel Allende, J.M. Coatzee, Cornelius Eady, Terrance Hayes, Bob Hicok, Jane Hirschfield, Yusef Komunyakaa, Li-Young Lee, Philip Levine, Gabriel Garcia Marquez, Carson McCullers, Pablo Neruda, Flannery O'Connor, Sharon Olds, Lucia Perillo, Arundhati Roy, Salman Rushdie, or George Saunders without getting very, very weak in the knees (and I realize this list is ridiculously incomplete and leaves out so much of the great writing happening now). And that's not even delving very far into what was considered the canon when I was in school. Because Walt Whitman still deserves giant praise, and where would I be without James Baldwin and William Faulkner and Li Po and Langston Hughes, and of course I have a crush on Gertrude Stein – doesn't everyone? And oh god SYLVIA PLATH. I have to go read some Anne Sexton now.
And I will never forget reading Brigit Pegeen Kelley's poem "Song" for the first time and bursting into tears. It's still hard for me to think of it without getting teary.
This may also be a good time to mention some writers with first books that have really caught my attention in the past few years and have me very excited for the future of poetry: Franny Choi's Floating, Brilliant, Gone; Natalie Diaz's When My Brother Was an Aztec; Tarfia Faizullah's Seam; T.J. Jarrett's Ain't No Grave; Patricia Lockwood's Balloon Pop Outlaw Black; Jamaal May's Hum; Matt Rasmussen's Black Aperture; and so many more. But that's a decent start.
How do you balance reading and writing in your life?
Balance? I'm pretty sure I don't. Or maybe this is how it works for everyone: I will always read way more than I write, ten times more. I read good poetry and think, oh yeah, and I'm sometimes inspired to create. I read good prose and I'm just grateful. I love how, when I write, I sometimes find a similar state of joy and gratitude – but more often it's hard work and very often far more frustrating.
Choose your preferred book form: ebook, physical book, or audio book?
Confession: I have never, not once, listened to an audio book or read an ebook. I like that others do it. I applaud getting more books into more hands (or ears). Sometimes I talk about getting an e-reader, or picking up an audio book from the library for a long drive, and it never seems to happen.
Do you consciously plan your future reading–i.e., set book goals, keep a TBR list, participate in book challenges or book clubs? Why or why not?
Eh. I tried Goodreads – it's such a cool idea, and I didn't keep up with it.
I tried a book club once. The readers very earnestly discussed and lauded The Red Tent, which I hated with the white-hot heat of a thousand suns. That was my last book club. But I will say, I like the idea of book clubs very much. I think I'd like one that only did poetry. Unfortunately, I'd probably have to start a club like that, and my volunteer time is pretty tapped out between coaching hockey, visits to local elementary schools to teach poetry, and my work as an editor with the most fabulous Sundress Press.
I have 429 TBR lists floating around my house and/or on my computer. Good luck with that. Sometimes I remember to specifically request a book from my library, and I do buy serious book tonnage every year. I wonder how many books I've bought this year – have I hit 100? I bet I'm in that range. Book & writing festivals are a particular downfall.
I sponsor a book swap every year – it's a book swap & Super Bowl party combination. Everyone exchanges books, we eat a lot of food, we laugh and talk, and in the background on TV, we occasionally glimpse men sustaining repeated low-impact head injuries which will likely adversely affect their lives at some point. Hey, when put that way, don't you think the NFL should do something about that?
What are you reading now?
In fiction, I just finished Andy Weir's The Martian – fantastic! In poetry, I'm very happily reading Michael Bazzett's You Must Remember This, Yona Harvey's Hemming the Water, and David Roderick's The Americans. Next-up poetry books include Doug Anderson's Horse Medicine, Saeed Jones's Prelude to a Bruise, and January Gill O'Neill's Misery Islands, among many others. My next book of prose, once I work my way through Book Riot's summer reading list – well, I need to make another trash run Saturday. Let's see what the book shed at the dump has to offer.
Karen Skolfield's book Frost in the Low Areas won the 2014 PEN New England Award in poetry and the First Book Award from Zone 3 Press. She has received fellowships and awards in 2014/2015 from the Poetry Society of America, New England Public Radio, Massachusetts Cultural Council, Ucross Foundation, Split This Rock, Hedgebrook, Vermont Studio Center, and the Sustainable Arts Foundation. New poems appear in Baltimore Review, Crab Orchard Review, Crazyhorse, Indiana Review, Pleiades, and others; she teaches writing to engineers at the University of Massachusetts Amherst, where she earned her Master of Fine Arts. You can find out more about her on her website.