The Writers Who Read series continues this week with Daniel Hales.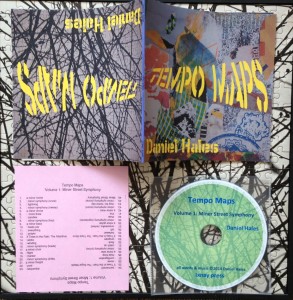 Who are you?
A writer, musician, collagist, teacher, kayaker, salsa junkie. I'm the author of Tempo Maps, a poetry chapbook with the companion CD: Miner Street Symphony (ixnay press). My poems, flash fictions, and hybrid writings have appeared in many places in print and in the aether, including Verse Daily, Conduit, H_NGM_N, Sentence, Quarter After Eight, and Booth. I've released three eps with The Ambiguities and three albums with The Frost Heaves, most recently Contrariwise: Songs From Lewis Carroll's Alice's Adventures in Wonderland and Through the Looking-Glass.
Which book or series was your gateway into the world of reading?
Like so many young readers of my generation, The Chronicles of Narnia was the first series I totally immersed myself in. I've been looking for secret portals into alternate dimensions ever since.
Nowadays, what makes you crack open a book instead of pressing play on your favorite Netflix show?
Books are richer in detail and description and, simultaneously, more open to "audience participation" than films. Film is such a powerful sensory-saturating medium, it can be hard to separate how you see the characters and settings from the way they're depicted on the screen. Books demand more of you, require more effort and imagination, but the payoff is bigger if you rise to the occasion.
Which authors are auto-buys for you? Why?
I have to confess that I rarely buy new books, even new releases that I'm excited about. My preferred book-buying experience is excavating funky used bookstores, preferably with big, eclectic poetry sections. I do the most book-buying when I go on sacred pilgrimages to odd and awesome bookstores around the world. If I spot a book I don't have by Italo Calvino, Denis Johnson, Fernando Pessoa, Dean Young, or Russell Edson, it's an autobuy.
What is your book kryptonite–those unique settings, tropes, or character types that make you unable to resist reading?
Settings: places I've lived, places I'd like to live, extreme places, unlikely or impossible places, any setting that is richly evoked. Tropes: Ninjas disguised as chimney sweeps in Dickensian England, recluses in submarines, beloved cats who murder their people, kids lost in labyrinths, taco stands that appear at will, competing rock bands stranded on a desert island. Characters: dreamers, losers, loners, misanthropes, musicians, rebels, risk-takers, seekers, hot air balloon smugglers, self-doubting wizards.
Are you a re-reader?
Yes, especially of favorite books of poetry. I keep coming back to those. There are Stevens, Pessoa, Rilke, Whitman, Dickinson, Pavese, and Dylan Thomas poems that I re-read every few years. I've re-read my favorite stories in Nabokov's Dozen, Stanford's Conditions Uncertain and Likely To Pass Away, Borges' Labyrinths, Saunders' Civil War Land In Bad Decline, and Johnson's Jesus' Son many times. My most fun reread of the summer was Marquez's One Hundred Years of Solitude, which I found twice as beautiful and fantastic the second time.
What is your ideal time and place to read?
All times of day are good for different reasons, but in the afternoon I seem to have the most focus. Reading outside in hammocks or beach chairs is preferable, when the temperature of the world permits it. With a cat on the couch otherwise.
Which books have had the biggest influence on your writing?
See my list of favorite books of prose poetry. Also, Another Republic edited by Charles Simic and Mark Strand, Wallace Stevens' Harmonium, James Tate's Worshipful Company of Fletchers, Dean Young's Strike Anywhere, Lawrence Raab's Mysteries of the Horizon, Italo Calvino's Invisible Cities, Whitman's Leaves of Grass.
What makes a book a satisfying read?
The sense that the writer was having fun and making discoveries along the way. When a book promises a lot and delivers. The right balance of abundance and concision, extravagance and restraint, just the right amount of semicolons and Oxford commas. A writer who is in love with language, danger, and the sensual world. Believable characters, settings that are characters in the book, not to mention ambient music, a beer, and a sandwich while reading.
What are you reading right now?
Books I'm currently reading or have recently finished: Sleeping It Off In Rapid City by August Kleinzahler, After I Was Dead by Laura Mullen, Exile On Main Street by Bill Janovitz (33 1/3 series), Get In Trouble by Kelly Link, Dr. Strange: The Oath by Brian Vaughan and Marcos Martin, and Sunblind Almost Motorcrash by Daniel Mahoney. This is an incredibly fun book of reviews for fictitious bands in various sub-sub-sub-genres of music. Dan asked various musicians to write and records songs pretending to be these imaginary bands and Spork Press released a companion cassette. I became the band Umbral, and had so much fun recording my song "Dawn Undecides," that I've continued recording as Umbral. I hope to have the first Umbral album finished before the year's out. In the meantime, Mahoney and I are in the process of organizing a fall reading tour in New England. We'll both read our own poems, and I'll accompany him with Umbral drones and ditties while he reads.
~
Daniel Hales is the author of Tempo Maps. Tempo Maps, comprised mostly of prose poems, is a tough book to pin down, but that doesn't mean you won't have fun trying. Longer than a chapbook, but not quite long enough to be a full-length volume, attempts to map its tempos are further complicated by its 2 covers, 2 possible points of entry, 2 alternate beginnings and ends, 2 equally correct orientations. Tempo Maps also comes with a companion CD comprised of 46 tracks: Hales reading the poems, instrumental interludes, and a long piece called the Miner Street Symphony. You can order it by emailing Daniel at: selahsongs@hotmail.com.