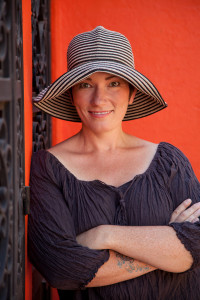 The Writers Who Read series continues this week with contemporary romance author Betsy Talbot.
Who are you?
I'm the author of The Late Bloomers Series and my heroines are all women in their prime. I love exploring what life looks like on the other side of forty—mainly because that is precisely the time my life got really interesting! My husband and I sold everything we owned back in 2010 and started traveling the world, and we've ended up living part-time in Spain, where I write my books, and part-time vagabonding around the world. It's not the sort of life I pictured for myself, which is precisely why I love it so much. I love to be surprised, in books and in life!
Which book or series was your gateway into the world of reading?
I've been reading daily since I first learned how. I remember Nancy Drew and The Boxcar Kids as a kid, but what really drew me into reading was my public library. In a small conservative town, back before everyone had a computer, the local library was my Google. It gave me worlds outside my own, and it helped me to realize I wasn't so weird, at least when compared to people outside my home town. I was a voracious reader, and my mother gave permission for me to have an adult library card at the age of ten. I remember getting that yellow card and being able to go left in the library instead of right, to where all the big books were! Knowing the world was open to me was the best feeling I'd ever had in my little life, and the way I feel about books today has not dimmed one bit.
Nowadays, what makes you crack open a book instead of pressing play on your favorite Netflix show?
I don't have a television and live outside the US, so Netflix doesn't work for me anyway. My main source of entertainment has always been books, though before Kindle I didn't always have a ready supply of material. Now I can order a book anytime and read it right away, which is great for my entertainment and not so great for my budget!
Which authors are auto-buys for you? Why?
I've long been a fan of magical realism, though I don't find as many favorites in this genre as I'd like. Go-to favorites are Neil Gaiman, Isabelle Allende, Joanne Harris, Salman Rushdie, and of course the late, great Gabriel Garcia Marquez.
What is your book kryptonite–those unique settings, tropes, or character types that make you unable to resist reading?
Give me a strong but misunderstood woman, preferably one with butt-kicking powers, and I'm on it. I like it when she's aggressive, even if it doesn't always work out for her. My latest favorite in this trope is Lily in Best Laid Plans, a woman bent on revenge and going about it in a very unusual way.
Another favorite is a heroine who is out of the norm for her time, whether that's feminist Claire Fraser traveling back in time to Scotland, the adventurous Una Spencer in Ahab's Wife pretending to be a boy to get passage on a ship, or Alma the moss expert in The Signature of All Things.
I like historical fiction done well, something that will teach me better than my schoolbooks did. One series I loved was by Conn Iggulden, and it centered on Genghis Khan and his legacy. It was so good it made me plan a trip to Mongolia! (I could say the same for Diana Gabaldon's Outlander Series convincing me to go to Scotland).
Last, I'm all about the dystopian novel. At the end of the world, all differences are cast aside and the playing field is level. People are all working for the same thing—survival—and I love what it shows about the human spirit, even when it isn't pretty.
Really, I could talk about books and characters all day: Smart thrillers that hook me from the first sentence, like "The first time I died…"; or the Matthew Storm books with a quirky ensemble cast of characters.
What is your ideal time and place to read?
I love sunny afternoons on the terrace or in my reading chair, but I don't get as many of those as I'd like. On my days off, I enjoy reading with my morning coffee, and I do read in bed every single night. The best invention ever for voracious reader like me is the Kindle. I can buy as many books as I can afford (or more!) and adjust the backlight so as not to keep my husband up at night while I devour another book into the night.
Are you a re-reader? Why or why not?
Usually, no. I do have a few books that are "safe" for rereading because they were not pivotal in my life, but any book that has made a big impact on my life, my thinking, or my evolution as a person remains untouched. I had a long conversation about this once with a man I met in China, and we agreed that rereading an influential book after the moment of change has passed has the strong possibility of devaluing the change. For instance, a book that was powerful to me at 25 that made me take bold moves might seem juvenile in my forties, and it would taint the feelings I have about that time in my life. Better to keep it pure!
If I didn't have a Kindle and still kept a house full of books, my opinion might be different. But I've been so mobile in my adulthood that keeping a large library has been impractical.
Which books have had the biggest influence on your writing?
Write.Publish.Repeat by Sean Platt and Johnny B. Truant is a good one for me because it promotes writing as a business with a production schedule, as is Do the Work by Stephen Pressfield, which taught me to overcome (mostly) my resistance. Both speak to the job of writing as a job, not a sainted calling, and I like thinking of myself as tradesperson more than an artist. I want people to count on me for reliable production of entertaining books more than a flash of brilliance here or there. Another great book is The Creative Habit by Twyla Tharp, which taught me the concept of the box of ideas for a project and how to build out a book before I even start writing it.
What makes a book a satisfying read for you?
I like it when the author leaves me to figure a few things out, when she trusts me to make certain leaps. The worst kind of books are those spoon fed, as if the writer is just a passive part of the writer/reader relationship. In those instances, I could just watch a program. I'd much rather be part of the story, use my own brain to figure some things out and draw conclusions. If there's no work on my part to enjoy the story, then I simply won't keep reading it.
What are you reading right now?
I'm reading a thriller/horror series by Blake Crouch. I'm on book two, which is Locked Doors. I naturally like thrillers, but I've also found that I learn a lot about pacing and cliffhangers for my contemporary romance work. It's hard for me to read romance and learn because it feels too much like copying. But learning from different genres helps me see lessons more clearly and adapt them to my own work without worrying that I'm trying to write like someone else.
And also, I like to scare myself a little. It makes for very intense and a slightly elevated heart rate when I wake up, which is a good start for a day's romance writing!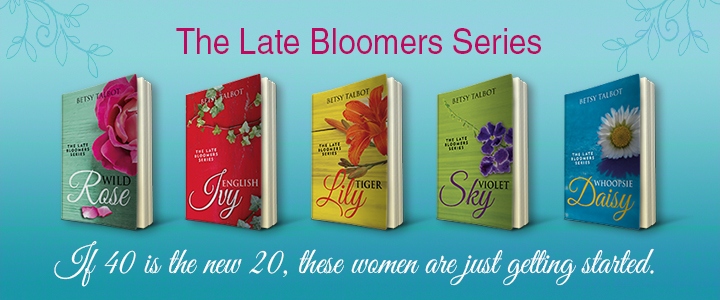 Betsy Talbot is a forty-something traveler and author. When she's not on the road or penning books about love, adventure, and self-discovery, she is hiking, learning flamenco dancing, and drinking wine in a tiny village in Spain with her handsome, long-haired husband Warren. (Watch out, Fabio!)
She is the host of The Quickie Romance Podcast, a weekly show highlighting excerpts from the best romance books in every genre. She's been told she gives good audio.
Her latest project is The Late Bloomers Series, a five-book romance series about women in their forties. Because women with experience make the best characters—in life and on the page. You can buy the first two books now, or download a free Late Bloomers adventure at BetsyTalbot.com.
Social media:
Twitter: https://twitter.com/betsytalbot (@betsytalbot)
Facebook: https://www.facebook.com/betsygraytalbot
Pinterest: https://www.pinterest.com/betsytalbot/
Quickie Romance Podcast (iTunes): https://itunes.apple.com/us/podcast/the-quickie-romance-podcast/id1000372995?mt=2
Website: http://www.BetsyTalbot.com
Amazon Author Page: http://amzn.to/1GJ2hIt