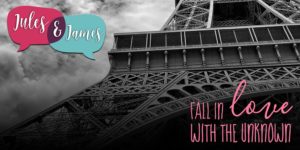 I was introduced to a new romance podcast recently that I've been enjoying: Jules & James.
I'm a fan of podcasts, especially for romance writers and book nerds like myself. But Jules & James is different than my usual podcasts. First, it's a fictional story–a dialogue between two people who meet over the phone when one of them misdials the other. Jules is a British woman who's passionate about filmmaking, and when she mistakenly calls James, an American living in Paris, he somehow convinces her to keep talking. She's his sign, he tells her, that he's meant to stay in Paris and continue his painting instead of flying back home to a more responsible job and life.
The first episode is full of the awkwardness of two strangers having an impromptu conversation over the phone that just keeps going. They both realize they're artists, and despite different backgrounds, passions, and communication styles, they decide to keep talking each week, primarily about their art. What follows is a slow-burn between two people who find sharing their thoughts, dreams, and inspirations with each other worthwhile despite the weird way they met.
Referred to as "one part Before Sunrise, one part Griffin and Sabine," Jules & James is definitely a podcast for those of us who enjoy dialogue-heavy romance and meditations on art.
However, Jules & James is different in another way: it's going to be more than a podcast. According to the website, the project will eventually expand to having the characters have online identities viewers can interact with.
I'm curious to see where this story goes–not to mention how (and when!) Jules & James will finally meet face-to-face.
If you're curious to listen, you can find out more about Jules & James or listen to the first three episodes here, as well as on major apps like Stitcher and iTunes. New episodes will be released weekly.
Let me know what you think of this podcast below! Are you a fan of awkward meet-cutes?