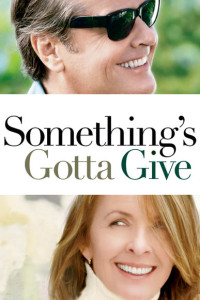 It's Romance Trope Tuesday, and this week I'm looking at our trope of the month, Enemies-to-Lovers, in action in a film.
There are many movies that use this trope, but I decided to use the 2003 Nancy Meyers film Something's Gotta Give, since it's one of the few romances with older main characters.
Something's Gotta Give works by forcing two opposites, Erica (Diane Keaton) and Harry (Jack Nicholson) together, as rom-coms often do, and having them gradually gain respect and affection for one another–which eventually lands them in bed.
Harry (Nicholson) is a notorious playboy and hip hop record company owner who only dates "sweet, uncomplicated" younger women like Marin (Amanda Peet). One weekend, when Marin takes him to her family's beach house to consummate their relationship, her mother, Erica (Keaton), unexpectedly walks in and mistakes a pantsless Harry for a burglar. Awkwardness ensues, especially after Erica realizes robbery might be preferable to this older cad dating her daughter. But they all agree to remain at the beach house for the weekend, because of course they do.
Like many enemies-to-lovers stories, Harry and Erica are opposites in a variety of ways. He's a carefree bachelor who wears loose-fitting shirts; she's an uptight divorcée who speaks French and lives in turtlenecks. "Words have been invented to describe woman like you," Harry tells her in one scene. "Such as?" she asks, and he responds, "Flinty…and impervious."
It's worth noting that not all enemies-to-lovers stories have opposites as the would-be lovers; sometimes the couple is at odds with one another because their families or cultures are warring, or they're both after the same goal. But when the couple is as different as Harry and Erica, the conflict is almost built-in: there's much for them to disagree on, from rap to Harry's tendency to not date women over 30 to Erica's buttoned-up lifestyle. "Have you always been like this, or do I bring it out on you?" Harry asks her. These early scenes of them arguing are some of the funniest of the film.
But like many stories of opposites and enemies who fall in love, romance blooms in the most unlikely way when Erica and Harry spend time together and realize they aren't so different after all. After Harry has a heart attack and is forced to stay at the house to rest, all the remaining guests except for Erica leave. Harry and Erica, now alone under the same roof, discover their common ground. Despite their different approaches to life, they're both older people who've achieved success, Erica as a playwright and Harry with his hip hop label. They both only get by on four hours of sleep a night, leading to many midnight meetups, amidst sexy plot contrivances like Harry walking in on Erica naked.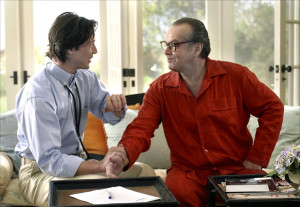 Like most stories, Something's Gotta Give has more than one trope within its tale. Harry's doctor, Julian (Keanu Reeves), has a May/December romantic subplot with Erica. Julian is a foil for Harry's character: he finds older women, or at least Erica, attractive and fascinating. Unfortunately, his attraction in the movie feels pretty underdeveloped, his feelings of adoration and jealousy and (spoiler alert) eventual heartbreak shallow–so much that it made me question whether he was a robot at times. Thought it's worth noting that since Erica ends up with Harry, there can't be too much complexity or interest there to distract us (but I would've been happier with a tad more).
Despite this undercooked subplot, a somewhat sluggish last act, and our hero Harry getting neutered more than I felt necessary, Something's Gotta Give shows us the power of love to make two people who initially couldn't stop arguing learn from each other and change for the better. "I can't decide if you hate me, or if you're the only person who ever got me," Erica tells Harry as their intimacy deepens, and he says, "I don't hate you." As their relationship progresses, Erica becomes more joyful and adventurous, Harry more aware and responsible with his behavior towards women. As I mentioned in last week's post, these changes in relationship and character arcs are what make this trope so exciting to witness, and the end result so sweet.
There are many other movies out there that use the enemies-to-lovers trope, either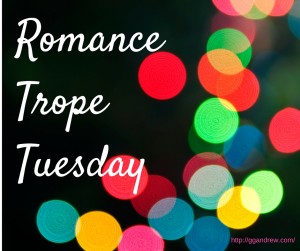 throughout the film or in certain scenes. Pride and Prejudice, Bridget Jones's Diary, Romancing the Stone, While You Were Sleeping, Leap Year, 10 Things I Hate About You, and part of The Princess Bride come to mind. (In fact, I'd argue that the success of The Princess Bride, as well as stories like Twilight, is partly due to them using several very popular tropes together.) Which are your favorite films with enemies who turn into lovers? 
In case you missed it, check out why this trope is so popular, a reading list of relevant books, and tips on how to write your own enemies-to-lovers romance.
You can follow this series by signing up for my mailing list (top right), subscribing to individual posts (bottom right), and/or following the hashtag #RomanceTropeTuesday on Twitter or my Facebook page.