In case you're new to the Romance Trope Tuesday series, this month I'm focusing on the enemies-to-lovers trope. Earlier this month, I explained what it is and why it's so popular in love stories, and last week I showed how it works within a film.
Today I'm sharing a reading list of recommended romances that follow this trope. This is by no means an exhaustive list–there are TONS of great romances that utilize this trope, in small and large ways. But it's a list of books I've read or will read soon, and represents a sampling of enemies-to-lovers across many different subgenres, from paranormal to hot contemporary to historical.
Book covers and blurbs here are from Goodreads.
A Hunger Like No Other by Kresley Cole 
A mythic warrior who'll stop at nothing to possess her…
After enduring years of torture from the vampire horde, Lachlain MacRieve, leader of the Lykae Clan, is enraged to find the predestined mate he's waited millennia for is a vampire. Or partly one. This Emmaline is a small, ethereal half Valkyrie/half vampire, who somehow begins to soothe the fury burning within him.
A vampire captured by her wildest fantasy…
Sheltered Emmaline Troy finally sets out to uncover the truth about her deceased parents—until a powerful Lykae claims her as his mate and forces her back to his ancestral Scottish castle. There, her fear of the Lykae—and their notorious dark desires—ebbs as he begins a slow, wicked seduction to sate her own dark cravings.
An all-consuming desire…
Yet when an ancient evil from her past resurfaces, will their desire deepen into a love that can bring a proud warrior to his knees and turn a gentle beauty into the fighter she was born to be?
Love it: I read this steamy paranormal, the second in Cole's Immortals After Dark series, last year. It also uses the fated mate trope to connect two creatures who would normally be enemies: a Lykae and a half-vampire/Valkyrie. It also has one of my favorite romance covers to date.
A Wicked Way to Win an Earl by Anna Bradley
A tantalizing new Regency romance filled with the most elegant society—and the most forbidden desires…
England, 1811. Delia Somerset despises the privileged ton, but her young sister, Lily, is desperate to escape their family's scandalous past and join high society. Unwilling to upset her sister, Delia reluctantly agrees to attend a party at the Sutherland estate—and avoid the gossip at all costs.
Alec Sutherland is known as a hot-headed scoundrel, but nothing gets a rise out of him as much as the news that his brother desires Delia's hand in marriage. She is, after all, the daughter of the London belle who soiled their family name. He's determined to ruin her reputation as well, in the most delicious way possible. It's only a matter of time before he can woo her with his irresistible advances.
As Delia devilishly plays along in Alec's game, determined to prove the joke is on him, they inch ever closer to repeating history. And in this game of seductive glances, scandalous whispers, and old debts, the outcome might be much more than either of them anticipated…
Love it: I've had this historical romance on my TBR, and am looking forward to the witty Regency dialogue as Delia and Alec battle it out. This novel won the award for First Historical Romance at Romantic Times this year.
Apples Should be Red by Penny Watson
Start with sixty-two-year-old politically incorrect, chain-smoking, hard-cussing curmudgeon.
Add fifty-nine year old sexually-repressed know-it-all in pearls.
Throw in a beer can-turkey, a battle for horticultural supremacy, and nudist next-door neighbor.
Serve on paper plates, garnished with garden gnome.
Tastes like happily ever after.
Love it: Two older main characters–including a curmudgeon hero and pearl-clutching heroine–made this a fun read! I really enjoyed the Thanksgiving setting, too.
Beautiful Bastard by Christina Lauren
An ambitious intern. A perfectionist executive. And a whole lot of name calling.
Whip-smart, hardworking, and on her way to an MBA, Chloe Mills has only one problem: her boss, Bennett Ryan. He's exacting, blunt, inconsiderate—and completely irresistible. A Beautiful Bastard.
Bennett has returned to Chicago from France to take a vital role in his family's massive media business. He never expected that the assistant who'd been helping him from abroad was the gorgeous, innocently provocative—completely infuriating—creature he now has to see every day. Despite the rumors, he's never been one for a workplace hookup. But Chloe's so tempting he's willing to bend the rules—or outright smash them—if it means he can have her. All over the office.
As their appetites for one another increase to a breaking point, Bennett and Chloe must decide exactly what they're willing to lose in order to win each other.
Love it: If you enjoy hate sex, this is pretty much the book you should be reading. Lots of animosity, lots of panties getting ripped. Lots of fun.
Get Real by Tellulah Darling
Francesca Bellafiore comes from a nice Jewish family — one that happens to have magical powers. Underneath her good-girl exterior, though, she's a wannabe badass with dreams of becoming a paranormal detective.
Party boy Rafael Muñoz does everything possible to publicly disappoint his high profile father. Privately, it's a different story. His carefully crafted bad boy reputation masks the fact he's a master illusionist, forced into solo covert ops. The role is wearing thin and Rafael longs to be part of a team.
When Francesca and Rafael meet, it's love at first sight… For about five minutes. Rafael is spectacularly attractive—and, Francesca discovers, fully aware of the fact. Rafael knows from experience that girls like Francesca are more trouble than they're worth.
So it sucks big time when they're caught in a web of magic, minions, secrets, and enough sexual tension to power NYC. Their only chance to save the city and survive is to team up, trust each other–and maybe even fall in love.
Provided they don't kill each other first.
Get Real is a romantic comedy, urban fantasy whirlwind with sass, sex, and swoon.
Love it: Tellulah Darling writes hilarious, witty rom-com, and this New Adult fantasy with a bad boy and nice Jewish girl who can't stop arguing is no different.
Hot as Hades by Alisha Rai
Ensnaring the ultimate bad boy has its risks…and its rewards. 
It's not easy being Hades. Constantly guarding his world against other meddling and ambitious deities is stressful work. So when a naked goddess falls directly into his lap, along with the news that he has to shelter her for the indefinite future, he is less than thrilled. Particularly since he can't help but lust after the beautiful female.
The Underworld isn't the first place Persephone would pick for a vacation—who in their right mind would choose a dark palace over sunshine and flowers? Yet from Hades's first touch, the dark, sexy ruler fascinates her and has her thinking a fling might be just the thing to while away her confinement.
But trust each other? Not a chance. Until the day comes that Persephone must leave…and they realize that trusting each other is the only way they'll ever meet again. 
Warning: Contains an arrogant god, a stubborn goddess, horny deity nookie and enough supernatural friction to set the Underworld on fire.
Love it: I'm in the middle of this hot paranormal novella that retells the Hades/Persephone story, and it's hot and funny.
The Preacher's Promise by Piper Huguley
1866 – Oberlin, Ohio
Devastated by her father's death days after her triumphant graduation from Oberlin College, Amanda Stewart is all alone in the world. Her father's unscrupulous business partner offers her an indecent proposal to earn a living. Instead, to fulfill a promise she made to her father, she resolves to start a school to educate and uplift their race. Sorting through her father's papers, she discovers he had carried on a mysterious correspondence with a plantation in Milford, Georgia. She determines to start her teaching work with the formerly enslaved. However, when she arrives, the mayor tells her to leave. There's nowhere for her to go.
Virgil Smithson, Milford's mayor, blacksmith and sometimes preacher man with a gift for fiery oratory, doesn't want anything to do with a snobby schoolteacher from up North. On top of everything else, the schoolteacher lady has a will hard enough to match the iron he forges. He must organize his fellow formerly enslaved citizens into a new town and raise his young daughter alone. Still, his troubled past haunts him. He cannot forget the promise he made to his daughter's mother as she died—that their child would learn to read and write. If only he didn't have secrets that the new schoolteacher seems determined to uncover.
To keep THE PREACHER'S PROMISE, Amanda and Virgil must put aside their enmity, unite for the sake of a newly-created community in a troubling age, and do things they never imagined. In the aftermath of the flood that was the Civil War, God set his bow upon the earth to show love and understanding for humankind. To reflect God's promise, these combatants must put aside their differences and come together–somehow.
Love it: I bought this book a few months ago on a friend's recommendation, and am looking forward to reading a story set in a historical period not common to romance, with a stubborn schoolteacher and mayor facing off.
~
Have you read any of these? Or other enemies-to-lovers romances you'd recommend? Let me know–I love getting book suggestions, and this is one of my favorites tropes.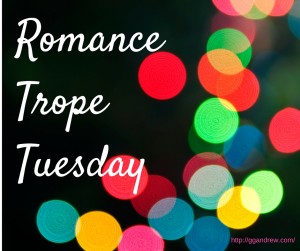 I've actually written two enemies-to-lovers stories myself: a British graffiti artist and the American woman who hates him falling in love in Graffiti in Love, and a woman falling for her best friend's ex that she hates by reputation in Somewhere Warm. They're filled with fights and sexual tension, one of the reasons I love this trope so much.
In case you missed it, check out why this trope is so popular, how it works in a film, and tips on how to write your own enemies-to-lovers romance!
You can follow this series by signing up for my mailing list (top right), subscribing to individual posts (bottom right), and/or following the hashtag #RomanceTropeTuesday on Twitter or my Facebook page.