This month I'm focusing on second-chance romance for Romance Trope Tuesday, and today I'm examining two movies that use this trope: Already Tomorrow in Hong Kong (2015) and Take Care (2014).
The nature of a couple's first chance can vary, from a casual flirtation to an unexpected hookup to a long-term relationship. This colors the second chance when it appears, and these two films show that spectrum of potential history a couple might have and how it affects their present.
In writer/director Emily Ting's Already Tomorrow in Hong Kong, Californian Ruby (Jamie Chung) is in Hong Kong for work when she meets Josh (Bryan Greenberg) one evening. He offers to help her navigate the city, and the two walk and talk amidst gorgeous shots of Hong Kong, sharing dreams, jokes, and their thoughts on race, culture, and technology. Unfortunately, twenty minutes in, Josh reveals he has a girlfriend, and Ruby walks away disappointed, both of them assuming they'll never see each other again. But a year later on a ferry, they stumble upon each other yet again for another night and a chance to reconnect.
This film is interesting on several levels. Even though Ruby's grandparents are from China, she's unfamiliar with Hong Kong and Chinese culture. Josh, on the other hand, is white, but has lived in the city for a decade, speaks Cantonese, and can show Ruby where to find the best seafood. Their conversations on race, culture, and interracial relationships are interesting and modern–and not something that's discussed in movies much at all.
Already Tomorrow in Hong Kong reminded me of two other fantastic romances: Before Sunrise and Before Sunset. Before Sunrise is about two strangers who meet and spend a few hours walking and talking in Vienna while falling for one another, and in Before Sunset they reunite in Paris. I love dialogue-heavy films, gorgeous scenery, and one-night-only stories, so I'm naturally prone to digging these types of films. Already Tomorrow in Hong Kong is like the first two Before movies put together, but set in Hong Kong and with a greater emphasis on the second reunion story. (There's also a third, Before Midnight, and they're all recommended viewing, in my opinion.)
After the initial spark in Already Tomorrow in Hong Kong, Josh sees Ruby on a ferry and they agree to spend another couple hours together, just as friends. (They're both with other people now.) The year has seen changes for both of them: Josh is now a writer, and Ruby is living in Hong Kong for a year. Watching this film showed me just how much overlap the second-chance trope has with the friends-to-lovers trope. Even with a past as brief as the one Josh and Ruby had, when they reconnect there's a sense in which they must befriend each other first before romantic possibilities emerge. And these two do, reaching new levels of depth and honesty in their conversations with one another, and having more fun too, from visiting a fortune teller to shopping for kitsch. There's a frisson of the forbidden romance trope here at work, though, as when the two share a dance and lock eyes, both knowing they're with other people.
Second-chance is all about emotion, and even though Ruby and Josh didn't have an involved relationship before, their friendship, and this second chance, has an undercurrent of deep emotion running underneath it. "What are we doing?" Ruby asks Josh towards the end of the film, as it's clear their reunion has moved from friendship into something else, and decisions need to be made if they want to see each other past this one night. My one slight criticism of this movie is Josh's emotional expression. While Ruby's feelings for Josh are clear when she excuses herself to the bathroom, looks in the mirror, and can't help but smile, Josh seems a bit more circumspect. He's adorable and amicable, and it's not hard to see him falling for the beautiful, sassy Ruby, yet we don't get that same glimpse of vulnerability. (I should also warn you that the ending is ambiguous, though that is true for the Before movies as well. I'd love to see a sequel to this!) Yet all in all, this film is a solid romance, especially if you love watching people have fascinating conversations in beautiful places, and want a great example of two near-strangers who meet again.
On the other side of the relationship spectrum is Liz Tuccillo's Take Care, which I've been wanting to watch since Jen Heart recommended it. In it, Frannie (Leslie Bibb) calls her ex, Devon (Thomas Sadoski), to help her recover after she's hit by a car and broken her arm and leg. The two had a serious, long-term relationship in the past, during which Frannie took care of Devon while he had cancer–and then he got better and dumped her. Even though she now calls Devon "the devil" to her friends, she's motivated to call him because she's unable to do basic tasks like prepare food or wash herself–some of these early scenes made me cringe and laugh at the same time–and her friends and family are either unavailable or a little too controlling.
The depth of emotion in Take Care is stronger than in Already Tomorrow in Hong Kong–but so is the resentment. At first, Frannie and Devon can barely talk without arguing, though his guilt for her prior caregiving makes him reluctantly help her out. Adding fuel to the fire, and eventually forbidden romance, is the presence of Devon's girlfriend, who is jealous of his connection with Frannie, past and current.
Like Already Tomorrow in Hong Kong, Devon and Frannie form a tentative friendship before their romance is rekindled, but it's a lot more work to get there. With the seriousness of their first, broken relationship simmering in the background, they spend the first part of the movie seething, arguing, and revealing what they couldn't say before, from Devon's discomfort with his cancer diagnosis, Frannie's sacrifice to care for him, and his resulting guilt. When Devon tells Frannie that he thinks his cancer was the best thing that ever happened to her because it gave her focus, she rants about all she had to deal with during his disease, between family members and infections and doctors who wouldn't write prescriptions. "…And every day there was something else," she says. "And then you left." Slowly, Devon admits to her that he left because she reminded him of that awful time in his life, and he was awash in guilt because he didn't know if he'd do the same for her. "…It wasn't because I didn't love you. I just didn't want anything to remind me," he says.
Later in the month, I'll talk more about this in writing tips for this trope, but reaching this level of honesty is key with second-chance romance, when healing from the prior breakup is so necessary to starting anew. So is showing a couple still has a strong connection, even when they've supposedly moved on. Devon's new girlfriend doesn't know his mom the way Frannie did. He laughs more with her, too.
I recommend both these films if you love second-chance romances with realistic characters, novel situations, and humor. They're a great way to remind yourself why this trope is one of the most popular, and how to form a strong second-chance story, no matter what shape the first chance took.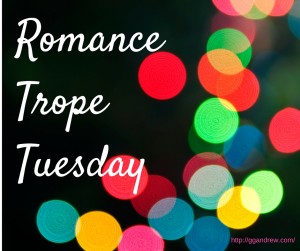 ~
Do you know other films that use this trope? Let me know in the comments!
In case you missed it, check out why this trope is so popular, a second-chance romance reading list, and tips on how to write your own second-chance romance!
~
You can follow this series by signing up for my mailing list (top right), subscribing to individual posts (bottom right), and/or following the hashtag #RomanceTropeTuesday on Twitter or my Facebook page.