One of my exes had a funny analogy for getting back together with someone you used to date. He said it was like getting a carton of milk out of the fridge, sniffing it and realizing it was rotten, putting it back in the fridge…and then pulling it out two weeks later and drinking it.
Needless to say, after we broke up, that was it! But I think that ex got to some truth about the difficulty of writing a second-chance romance: how can you show that a relationship that didn't work then can work now? How do you show that the connection was good or promising in some way, but it just wasn't the right time?
Here are some tips I've learned from reading and watching some great second-chance romance. As always, these lists are conversations. If you have a trick to writing a great romance in this trope–or something not to do–please share!
Six things to do when penning a second-chance romance:
Show us what happened.
There are exceptions of course, but most of the second-chance romances that I've really connected with have shown snippets of the prior relationship between two people–rather than just told us they were together. Flashbacks, even brief ones, give us a real sense of how two people related and connected, and how it all fell apart–which gives us a sense of what's at stake in a story, how much good is possible and how bad it all can go wrong.
Make sure the attraction–and connection–is still there.
When the two characters meet again, show the reader the attraction is still there. Maybe he's jealous of his ex's new boyfriend, so he acts like a jerk. Maybe, like in Take Care, his ex was a lot closer to his mom than his new fiancee. Maybe two former lovers challenge each other to live out their dreams in a way others don't. You may need to force proximity here–trap them in a freezer together, or make them have to work as reluctant event co-chairs–to make the reader see, and the characters start to realize, that the spark remains.
Show us they've changed and grown.
If this second chance is going to work, they can't be the same people they were before. They need to be wiser, know more what they want, appreciate what they could have in the other person. And, above all…
They need to be honest.
Honesty is huge with this trope. If two people had a relationship and want to make a second go, the air needs to be cleared. They need to be able to talk about what happened, admit mistakes, and move forward.
Similarly, they need to build trust and closeness again.
In my mind, there's considerable overlap between second-chance romance and friends-to-lovers in many stories. Sometimes the friendship came before a hookup, sometimes it's after…But whichever the case, trust and closeness between two people needs to be established.
The characters need to really commit to it.
It was broke before, and they fixed it, but we need to know it's for happily-ever-after this time. One or both characters needs to show a commitment that they couldn't before–a ring, a move across the country. I think this is why a lot of these second-chance romances come between two people who've moved on with others, as was the case in both movies I reviewed last week. It adds a touch of the forbidden romance trope, sure, but also I believe it allows the characters to show they really want each other again, that they're not just falling back into old patterns. They're going to give up their good-enough new lover(s) for a chance at the amazing connection with this person from their past.
What do you think about these writing tips? Would you add anything?
~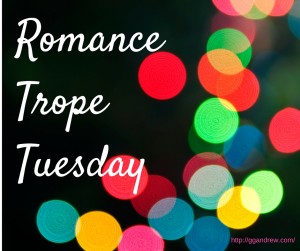 Today concludes my look at the second-chance romance trope as part of the Romance Trope Tuesday series. In case you missed it, check out why this trope is so popular, how it works in a film, and a suggested reading list.
I'll be back to Romance Trope Tuesday next month, where I'll turn to a new device: friends-to-lovers.
~
You can follow this series by signing up for my mailing list (top right), subscribing to individual posts (bottom right), and/or following the hashtag #RomanceTropeTuesday on Twitter or my Facebook page.