Second-chance is one of my favorite romance tropes–I love the awkwardness and emotion that come from reuniting two people who have a past. There are some great second-chance romance novels, novellas, and short stories out there, too.
Here's a quick reading list if you'd like to explore this trope more. As I mentioned last month, these lists aren't meant to be exhaustive–this is a popular trope–but simply show the variety of stories that can use this device. Some people claim that tropes make all stories predictable and too similar, which is simply not true! These stories are all second-chance romances, but they're different romance subgenres (contemporary, western inspiration, romantic suspense), as well as penned by authors with unique styles. They also have different characters and plots, making them stories all their own.
Some of these I've read, others I've been wanting to read. If you know of other great second-chance romances, please comment below!
Book covers and blurbs here are from Goodreads.
Persuasion by Jane Austen
Twenty-seven-year old Anne Elliot is Austen's most adult heroine. Eight years before the story proper begins, she is happily betrothed to a naval officer, Frederick Wentworth, but she precipitously breaks off the engagement when persuaded by her friend Lady Russell that such a match is unworthy. The breakup produces in Anne a deep and long-lasting regret. When later Wentworth returns from sea a rich and successful captain, he finds Anne's family on the brink of financial ruin and his own sister a tenant in Kellynch Hall, the Elliot estate. All the tension of the novel revolves around one question: Will Anne and Wentworth be reunited in their love?
Jane Austen once compared her writing to painting on a little bit of ivory, 2 inches square. Readers of Persuasion will discover that neither her skill for delicate, ironic observations on social custom, love, and marriage nor her ability to apply a sharp focus lens to English manners and morals has deserted her in her final finished work.
Why you should take a second look: It may be controversial to admit, but I love Persuasion as much–if not more–than Pride & Prejudice. This short classic novel just drips with romance, as Anne, a heroine you can't help but root for, faces the man she rejected years ago (before she, you know, lost her bloom. Like you do.).
Exclusively Yours by Shannon Stacey
When Keri Daniels' editor finds out she has previous carnal knowledge of reclusive bestselling author Joe Kowalski, she gives Keri a choice: get an interview or get a new job.
Joe's never forgotten the first girl to break his heart, so he's intrigued to hear Keri's back in town–and looking for him. Despite his intense need for privacy, he'll grant Keri an interview if it means a chance to finish what they started in high school.
He proposes an outrageous plan–for every day she survives with his family on their annual camping and four-wheeling trip, Keri can ask one question. Keri agrees; she's worked too hard to walk away from her career.
But the chemistry between them is still as potent as the bug spray, Joe's sister is out to avenge his broken heart and Keri hasn't ridden an ATV since she was ten. Who knew a little blackmail, a whole lot of family and some sizzling romantic interludes could make Keri reconsider the old dream of Keri & Joe 2gether 4ever.
Why you should take a second look: This Shannon Stacey has been on my TBR. She writes fun, funny contemporaries, and I love the plot of this one.
Into the Heat by Tamara Lush
Leo Villeneuve is a wounded, tattooed Afghanistan war veteran who is trying like hell to avoid his pain—and his past.
He returns to Florida in hopes of healing. On a sun-kissed beach he runs into Jessica Clarke, the one woman he's never forgotten. Their attraction for each other burns as hot as the summer sun, but Leo's got secrets he can't reveal. Because, if he does, he'll risk the one thing he can least afford to lose: Jessica's love.
Into the Heat…
A book about first love and second chances. And unforgettable passion.
Why you should take a second look: I love Tamara Lush's hot and sensual writing, so I am looking forward to this novel of a veteran who returns home to Florida and reunites with a woman from his past.
Second Chance by Audra North
A tricky ghost treats a lonely librarian to another chance at love…
Wilford town librarian Marnie Thomas has had too much loss to risk her heart ever again. She buries her hurt in books and finds her friends in stories, even though she longs for love and a family of her own.
Real estate developer Collin Morgan is back in town on Halloween to help his sister, but the last person he expected to see at his niece's story hour is Marnie Thomas. The shy, awkward girl he remembered from high school has turned into a beautiful—but still shy—woman, and Collin can't help the desire that rises up when he sees her.
But this year, the magic of Halloween conjures a wisecracking, cigar-smoking ghost named Bill in the library archives, frightening Marnie out from behind her books. Bill does everything in his power to bring Marnie and Collin together…but he can't make them fall in love. Before the clock strikes midnight on Halloween, will Marnie finally open up to a second chance at happiness, or will she be forever haunted by the past?
Why you should take a second look: This novella is a sweet and sexy contemporary romance with a ghost who helps the heroine out. I recommend reading it around Halloween, like I did.
Second Chance Ranch by Liz Isaacson
A new Christian western romance from bestselling author, Elana Johnson, writing as Liz Isaacson for her contemporary adult romance debut.
After his deployment, injured and discharged Major Squire Ackerman returns to Three Rivers Ranch, anxious to prove himself capable of running the cattle operation so his parents can retire. Things would be easier if the ranch wasn't missing 1.6 million dollars, which forces Squire to hire Kelly, the girl who rejected his high school prom invitation, as his accountant.
She's back in town with her four-year-old son, living in her parent's basement until she can get her life back together. With fresh ink on her divorce papers and open gashes on her heart, she's not ready for much beyond her new job on the ranch.
Squire wants to forgive Kelly for ignoring him a decade ago. He'd like to provide the stable life she needs, but with old wounds opening and a ranch on the brink of financial collapse, it will take patience and faith to make their second chance possible.
For fans of inspirational western romance authors Kimberly Krey, Becky Wade, and Denise Hunter.
Why you should take a second look: This story looks like a sweet twist on second-chance romance with a single mom working at the ranch of someone she has a history with.
The Shark by Mary Burton
At the grisly murder scene of a teen prostitute, Virginia state trooper Riley Tatum's past roars back to haunt her. When she was a teenage runaway, she was kidnapped, drugged, and left unconscious on the streets. She has no memories of what happened, only strange recurring dreams of two men playing cards.
Former FBI agent Clay Bowman, Riley's old flame, is Shield Security's newest member. He's plagued by the unsolved case of a serial killer nicknamed the Shark who murdered girls as part of a sadistic poker game. Only one girl survived. With the Shark now bent on evening that score, Clay has a chilling suspicion: Riley is the girl who escaped the Shark's deadly amusement—and she is his next prey.
As the Shark gets ready to play his hand, can Riley and Clay stop him—or will this killer finally claim the one who got away?
Why you should take a second look: I've been wanting to read this romantic suspense about a police trooper and the former FBI agent she used to be involved with trying to catch a killer.
Waiting for Clark by Annabeth Albert
When Bryce Weyland agrees to go to a comic convention dressed as a superhero, the last person he expects to see is his one-time best friend (and hopeless crush), Clark Kenmore. But Clark is impossible not to notice—he's wearing spandex tights, a rainbow cape, and the same disarming smile that haunts Bryce's dreams.
Five years ago, they shared an ill-advised kiss that torpedoed their friendship. But now Clark has returned to Portland, and he wants nothing more than to return to the easy friendship that defined their college years. But the glowering Bryce makes it clear Clark's mission is going to require a super-human effort—and more than a little luck.
Note: This story was originally written for the 2015 Don't Read in the Closet event. This version has been revised and includes a bonus sneak-peek at the author's upcoming release STATUS UPDATE.
Why you should take a second look: I read this sweet and geeky novella earlier this year and enjoyed how Annabeth Albert showed the pasts of the two men and the way they're both so nerdily perfect for one another.
~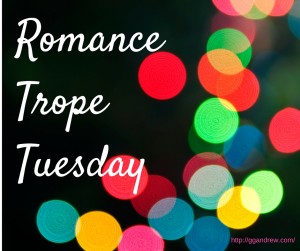 Have you read any of these? Let me know your favorite second-chance romance reads in the comments!
In case you missed it, check out why this trope is so popular, how it works in a film, and tips on how to write your own second-chance romance!
~
You can follow this series by signing up for my mailing list (top right), subscribing to individual posts (bottom right), and/or following the hashtag #RomanceTropeTuesday on Twitter or my Facebook page.