It's August, and I'm focusing on the romance trope of friends who become lovers. 13 Going on 30 is a cute romance that, paired with the second-chance and forbidden romance tropes, shows a pair of friends who fall for each other–in two different timelines.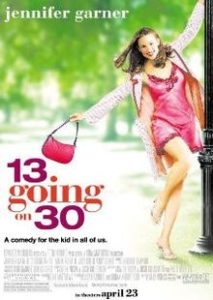 A quick recap of this 2004 film for those of you who don't remember: Jenna (Christa B. Allen), is a girl about to turn 13 in the 1980s. She's sweet and quirky, and best friends with the neighbor boy Matt (Sean Marquette). But Jenna doesn't want to be unique, she wants to be cool, or "30, flirty, and thriving" like the models in her magazines. So she convinces the cool girls at school to come to her birthday party in exchange for doing their homework. Of course, the cool girls are mean, and they make fun of Matt–and then Jenna does, too–before lying to her that if she goes into her closet, one of the popular boys will come kiss her. He doesn't, the cool group leaves, and then through some weird '80s magic involving a dollhouse and special glitter, she's transported into the body of her 30-year-old self, played delightfully well by Jennifer Garner.
Jenna is now 30, flirty, and thriving like she wanted, a successful women working at a magazine who's got a hot athlete boyfriend and is friends with one of those former cool girls, Lucy (Judy Greer). But this 30-year-old Jenna, as 13-year-old Jenna begins to realize, is also a cheater and not very nice–and has long ago ditched her old friend Matt, now played as an adult by Mark Ruffalo. Panicked, Jenna finds him and the two begin a friendship, tentatively at first since Matt is wary of her past behavior and is engaged to someone else.
With their friendship already established in the past, Jenna and Matt are friends who start to fall for each other, but because of their rift as kids, their dynamic is also somewhat of a nostalgic second-chance romance–not to mention a forbidden one, since Matt is engaged. (In their 1980s youth, shown at the film's beginning and ending, it's strictly friends to, erm, more than friends since they're young, though the movie shows us an alternate future there, too.)
The evolution of Jenna and Matt's friendship into romance is sweet and fun. In a rom-com with a theme of showing how great it is to be a kid–even if you're an adult–Jenna's dates with Matt are filled with candy, swingsets, and playful poses. (It's somewhat a gender-reversed Big.) It's also built on their shared history, as romances in this trope are. The two's connection depicts how great it can be to kiss someone that not only makes your heart flutter, but you've genuinely enjoyed just being around, one of the best parts of the friends-to-lovers trope.
~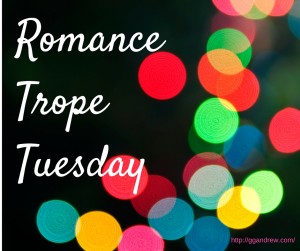 Have you seen 13 Going on 30? Or do you have another favorite friends-to-lovers film?
In case you missed it, check out why this trope is so popular, a suggested reading list, and some tips on writing your own story in this vein.
~
You can follow this series by signing up for my mailing list (top right), subscribing to individual posts (bottom right), and/or following the hashtag #RomanceTropeTuesday on Twitter or my Facebook page.