Happy August!
On Romance Trope Tuesday this month, I'm examining friends-to-lovers romance.
With many love stories, two people often have a brief period when they spend time together and talk before becoming romantically and physically involved. In my mind, this isn't quite the friends-to-lovers trope. Friends-to-lovers is when two people are in an established friendship with each other, even if one of them wants more (the so-called "friend zone" situation). More than a brief prelude to a kiss, their friendship has been there for months or years–so much that it's a surprise and even sometimes a shock to one or both when romance comes into play.
Like second-chance romance, the couple knows each other really well when they're already friends, so they can get to the L word that much sooner, which makes a story more satisfying because it feels more realistic than instalove connections, which turn some readers off. Unlike second-chance romance, though, these stories are often less angsty, more fun and funny.
What else is great about the friends-to-lovers trope? Five things:
It makes us root for the couple…
We can already see how well they get along. They spend time together, they share secrets, they laugh at each other's jokes. They have a shared history, a connection like no other. Maybe they're childhood pals, co-workers, or even roommates. If only, you know, they realized how perfect they'd be together.
…especially if one of them wants more
Sometimes in friends-to-lovers, one of the friends has romantic feelings that haven't been acted on, while the other person is clueless and/or attached. This can make us root for an eventual romance even more, because along with their awesome connection, we feel this person's yearning, which may have been there for years.
It's surprising to the character(s)–and funny as a result
When romance comes as a surprise, it can pretty hilarious. Suddenly a relaxed friendship is fraught with awkwardness, unexpected jealousy, almost-kisses, and weird goodbyes.
It's got loads of sexual tension
Though enemies-to-lovers or forbidden romance may pack more fiery passion, and second-chance love more emotion, the friends-to-lovers trope excels at providing an all-over great mix of three ingredients essential to any rom-com: sweetness, humor, and sexiness. Even with a once strictly-platonic connection, a scenario of friends who are drifting towards lovers is completely sexy: They're maybe noticing each other's bodies for the first time. They're surprised by how that fake kiss to keep away an unwelcome suitor felt so, well, hot.
It pairs well with opposites-attract, forbidden or second-chance romance, friends with benefits, fake engagement…
Two people could be "just friends" because they're nothing alike and they can't see it working. Or they could both be with other people, or have had a prior relationship that didn't work out. These are a few of the devices that could keep them apart, but you could use other tropes to help move the romance along. Maybe a spark of attraction between them leads them to believe they can have a physical relationship without getting their feelings involved. Or maybe one of them needs to have a pretend date for a wedding or important family gathering (like you do), and the friend steps up to the plate…leading to some situations that may start to feel more than pretend. Basically, there's a lot of potential to combine this trope with others.
~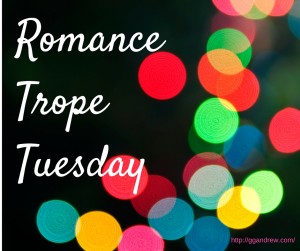 Do you love friends-to-lovers stories? Tell me why in the comments! And check out a suggested reading list, how this trope works in a film, and some tips on writing your own story in this vein.
~
You can follow this series by signing up for my mailing list (top right), subscribing to individual posts (bottom right), and/or following the hashtag #RomanceTropeTuesday on Twitter or my Facebook page.